What's Up, Doc?
(1972)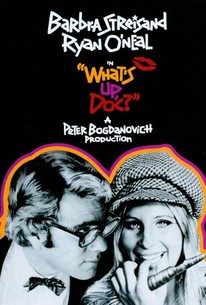 TOMATOMETER
AUDIENCE SCORE
Critic Consensus: Barbra Streisand was never more likable than in this energetic, often hilarious screwball farce from director Peter Bogdanovich.
Movie Info
With Howard Hawks's Bringing Up Baby (1938) as his blueprint, Peter Bogdanovich resurrected and payed homage to 1930s screwball comedy in What's Up, Doc? (1972). When wacky co-ed Judy Maxwell (Barbra Streisand, in the Katharine Hepburn part) spies nebbishy musicologist Howard Bannister (Ryan O'Neal in bespectacled Cary Grant mode) in a San Francisco hotel lobby, she decides that Howard and his precious igneous rocks are right up her alley. Too bad Howard already has a fiancée, the propriety-fixated Eunice (Madeline Kahn in her film debut). Using all her arcane knowledge from brief stays at numerous colleges, Judy tries to charm her way to a $20,000 grant for Howard, and Howard himself, at a banquet with grantor Frederick Larrabee (Austin Pendleton). Things get even more complicated the next day when Judy's underwear-filled overnight bag gets mixed up with Howard's rock bag, which gets mixed up with Mrs. Van Hoskins' bag of jewels, which gets mixed up with Mr. Smith's bag of top secret government papers. All sides converge at Larrabee's mod townhouse and the chase begins. Retaining Hawks' machine-gun pace (as well as the sly pop culture referentiality of Billy Wilder), Bogdanovich and writers Buck Henry, David Newman, and Robert Benton updated the opposites-attract screwball convention for contemporary times. O'Neal gently parodied not only Grant but also his own Love Story (1970) preppy, while Kahn represents stiff-wigged 1950s manners as opposed to Streisand's long-haired, pants-wearing free spirit. The happy ending, in which Cole Porter-belting youth wins out over old manners, found favor with audiences, as What's Up, Doc? became one of the most popular films of 1972, and the second hit in a row for Bogdanovich after 1971's The Last Picture Show.
News & Interviews for What's Up, Doc?
Critic Reviews for What's Up, Doc?
Audience Reviews for What's Up, Doc?
Remember that kind of stuffy professor who was easily flustered that Cary Grant played in Bringing Up Baby? Well that's sort of the tip of this comic fare-thee-well, an homage to screwball comedies, with Ryan O'Neal doing the present honors, and Babs Streisand in her most accessible role as the loopy broad (the Katherine Hepburn part) who has set her sights on said professor. Set the antics in San Francisco and let her rip. Why this film isn't remembered beside the likes of Blazing Saddles I'll never know, a forgotten gem of the 1970's. Madelyn Kahn plays the cougar.
Kevin M. Williams
Super Reviewer
½
It doesn't really matter that this amusing homage to the screwball comedies of the 1930s and 1940s has such a loony structure, since it is often hilarious and has a super charismatic Barbra Streisand embodying an irresistible combination of Carole Lombard and Bugs Bunny.
Carlos Magalhães
Super Reviewer
½
Four suitcases, one with jewels, one with secret documents, one with rocks, and one with clothes, cause goofy characters to scramble for possession. What's Up, Doc? is a fun light-hearted farce that succeeds because Barbara Streisand can be quite charming and Ryan O'Neal has a good, dry, stone-faced delivery. The final moment of the film -- "That's the stupidest thing I've ever heard" -- is hilarious only for those who know O'Neal's career. The film fails in other areas. Judy's motivations are mysterious; "You're cute" isn't enough justification for me. Likewise, all the other interesting parties flit and run around like idiots, but their motivations are never very clear. Overall, as farces go, this one isn't bad, but ultimately, What's Up, Doc? is easily dismissed.
Jim Hunter
Super Reviewer
What's Up, Doc? Quotes
There are no approved quotes yet for this movie.