What's So Bad About Feeling Good?
(1968)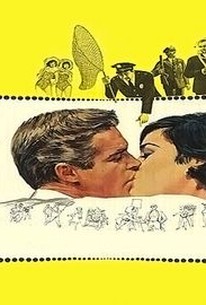 AUDIENCE SCORE
Critic Consensus: No consensus yet.
What's So Bad About Feeling Good? Photos
Movie Info
In this comedy, New York City undergoes a dramatic change when a toucan carrying a virus is smuggled through customs. In those it infects, the virus causes an intense euphoria and a desire to do good. The Big Apple goes into an economic tailspin as its residents become deliriously happy.
Critic Reviews for What's So Bad About Feeling Good?
There are no critic reviews yet for What's So Bad About Feeling Good?. Keep checking Rotten Tomatoes for updates!
Audience Reviews for What's So Bad About Feeling Good?
½
"What's So Bad About Feeling Good?" has a title that reeks of mediocre gimmickry, and indeed this film is more than a little silly. A mysterious toucan carrying a virus that causes delirious happiness comes to New York via a Greek freight boat. Its first local stop is a cynical beatnik pad, where dropped-out longhairs (led by the miscast George Peppard and Mary Tyler Moore) eternally scowl about the hopelessness of metropolitan life. (You'll want to see Moore, a couple of years before superstardom, gamely singing a free-form guitar lament with lines like "I find peace of mind in the theory/That true existence is dreary.") The bird works its magic -- personality transformations are signaled with a none-too-subtle "boing" sound -- and soon the gang is merrily dancing arm in arm on the roof. From there, they conspire to spread the bug around town, and soon the frazzled mayor is worried about the loss of city revenue (reduced smoking and drinking mean less sales tax, you see). Eventually, he calls in a flamboyant government agent (Dom Deluise, who has the film's best part) to solve the problem. "What's So Bad" has some cute moments (several involve "The Sack," an unnamed girl who protests the world by hiding in a burlap bag), but the stodgy script isn't sharp enough to have any real satirical bite. The beatnik characterizations feel outdated in the time of peace-and-love hippies, and the leads' initial euphoria quickly fades to a bland, status-quo conformity that isn't consistent with the infection's established pathology. Moore and Peppard get haircuts and polish their wardrobes, and soon pass for casually "normal." They even turn stressed and neurotic when trying to hide the bird from the authorities. Wait, weren't they supposed to be irrationally happy? By the end, the film's mixed message seems more about frowning on deviant values than preaching the virtues of good cheer.
Eric Broome
Super Reviewer
½
goofy but sweetly good natured
What's So Bad About Feeling Good? Quotes
There are no approved quotes yet for this movie.