What Just Happened?
(2008)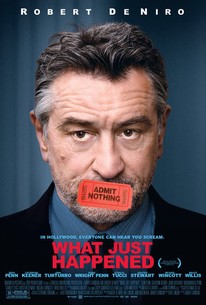 TOMATOMETER
AUDIENCE SCORE
Critic Consensus: What Just Happened has some inspired comic moments, but this inside-baseball take on Hollywood lacks satirical bite.
What Just Happened? Photos
Movie Info
Inspired by the personal memoirs of Hollywood producer Art Linson, Barry Levinson's fictional showbiz comedy stars Robert De Niro as a struggling movie producer who has just suffered through his second divorce, and slowly finds his soul being ground up in the machinations of the Hollywood machine. Ben (De Niro) is an aging producer whose career was already on a downward turn when his personal life went straight into the toilet. Not only is Ben juggling two ex-wives and a daughter who seems to have grown up overnight, but his colleagues seem to take pleasure in watching him suffer while he attempts to complete his latest film on an impossible schedule. "Fiercely" was supposed to be the visionary movie that revived Ben's career, but drug-addicted director Jeremy (Michael Wincott) has clashed with uncompromising studio chief Lou (Catherine Keener) following a disastrous test screening, and now it appears as if not even Sean Penn's presence in the film will be enough to make it a box-office hit. Meanwhile, Ben's ex-wife Kelly (Robin Wright Penn) can't seem to decide if she loves him or hates him, and his teenage daughter, Zoe (Kristen Stewart), has gone from playing with Barbie dolls to flirting with boys in the blink of a heavily mascaraed eye. As if that wasn't enough for one man to take in, screenwriter Scott (Stanley Tucci) is trying to broker a deal with Ben while simultaneously making a play for his former wife, and nebbish agent Dick (John Turturro) is so terrified of his own clients that he can't even ask Bruce Willis to shave his scraggly new beard for an upcoming role. It's all just another day in the world of runaway egos, treachery, betrayal, and deceit that is Hollywood, and if Ben can just make it to Cannes with a finished film under his arm and his sanity in tact, everything might just work out after all.
News & Interviews for What Just Happened?
Critic Reviews for What Just Happened?
Audience Reviews for What Just Happened?
Ben: You're an agent. Delivering bad news is part of your job description.  "Admit nothing." What Just Happened? is a decent attempt at bringing Hollywood to a more honest light. Not everything seems to work, but there's a lot of great stuff going on in the film. We're given a great cast, a decent story, and a terrific director in Barry Levinson. As the film runs along, I was always interested. This movie hasn't gotten a lot of slack and it all just seems unjustified to me. Sure the movie isn't a masterpiece, but it's a serviceable drama with some great performances. A Hollywood film producer is being overcome by many negative factors that he has to deal with in his job. He's going through the divorce process, he has a movie that isn't being received well, that they need to recut, but a director who doesn't want to change it, and also another movie with a star actor(Bruce Willis as Bruce Willis), who doesn't want to shave his beard. He has to take all this on at the same time and still try to keep his sanity. Robert De Niro delivers a pretty good role here as the struggling producer. He's backed up by a good supporting cast that includes Stanley Tucci, Bruce Willis, Catherine Keener, Sean Penn, and Kristen Stewart. The cast is outstanding and that's what makes the movie work just enough. The cast makes the kind of boring story a lot more entertaining. In the end the film is worth a look and I enjoyed it. It has moments that are funny, if in an off the wall sort of way, but funny nonetheless. Also some of the satire on Hollywood is quite aggressive and interesting. Maybe all of it isn't completely original, but the way it's presented makes for a good time.
Melvin White
Super Reviewer
What Just Happened? Is a unique comedy that has plenty of laughs. The comedy displayed on screen is off the wall, and may not appeal to a large audience, but this film manages to be a lot of fun. I thought the plot, though at times was well thought out, and the story was interesting, and not your average comedy. Watching this, you have to have an open mind, and immerse yourself into the story. Director Barry Levinson has made a terrific film. Some may not enjoy this, and others may be skeptical about watching it, but What Just Happened? manages to be a very well made comedy with brains. The cast are terrific and Robert De Niro is great in the part he plays another great performance is that of Michael Wincott. Wincott a very funny director who is making the film seen in this film. He suffers from a kind of breakdown once the studio threatens to recut the film after a negative screening of the film. I loved this film, I thought it had a well written story that managed to be funny, and above all the cast was great. If it would've been a different cast, I think this film wouldn't be as good as it was. There are of course questionable names in the cast such as Kristen Stewart, but she has such a minimal part, that the viewer won't even have the time Levinson has made another great film. If you like this type of Humor, then check this one out. What Just Happened? Is fairly underrated and it shouldn't get the flack it has received.
What Just Happened? Quotes
There are no approved quotes yet for this movie.