What Dreams May Come
(1998)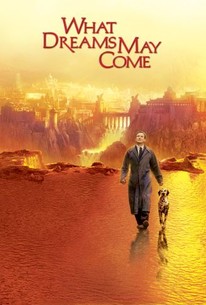 What Dreams May Come Photos
Movie Info
Despite everything we have experienced and all we have seen, nothing can prepare us for the wonders of what lies beyond. Academy Award Winner Robin Williams is about to take you on an amazing journey...through heaven and hell. To rediscover the meaning of life...and the wonders of love.
Critic Reviews for What Dreams May Come
Audience Reviews for What Dreams May Come
½
Chris Nielsen: A whole human life is just a heartbeat here in Heaven. Then we'll all be together forever. "After life there is more. The end is just the beginning." I'm very conflicted on my feelings with What Dreams May Come. It's a bizarre movie, that tries to tug at the heartstrings for just about the whole runtime. As far as the heartstrings, it failed, at least with me. I loved the idea though, and the visuals are enough to make this worth a watch. Throughout the whole film, I found myself wondering if I liked what I was seeing or not. I couldn't decide, and then the end came, and I said, "That's fucking stupid." The ending threw me off a little bit, but I still can't really gather my feelings on this one. Did I like it? Did I hate it? I don't know. I guess it's one of those tweeners.  Chris and his wife Annie lose their two children in a car crash. Four years later Chris is also killed in a car crash, as he is trying to help someone. He goes to heaven, where a spiritual guide shows him the ropes. Then Annie kills herself, and winds up in hell. In order to save his wife, Chris goes on a journey to hell in order to bring her back. The story is fascinating, but I can't help, but feel like it could have been executed so much better. I'm also in-between on Robin Williams in this movie. His performance is far from his best, but also far from his worst. At moments, I enjoyed what he was doing, and at others, I was cringing. Cuba Gooding Jr. and Max Von Sydow are really good in their roles though and without them, I don't think I'd be in-between on this film; I probably would have hated it. Is it worth a watch? Yes it is. It's extremely interesting and the representations of heaven and hell are astounding. The film has beautiful visuals that really make the movie. I just wish it was executed better from a writing stand point and from a directing stand point. In the end though, you can do much worse, and should at least give it a shot. Whether you like it in the end or not, the visuals more than make up for it.
Melvin White
Super Reviewer
½
A sumptuous, delicious reverie on life, death and relationships. Strong dramatic acting by Robin Williams and stunning visuals for the time. A truly beautiful and imaginative film.
Christian C
Super Reviewer
"What Dreams May Come" truly conveys a very dreamy and colorful world through its spectacular cinematography. The story gets you involved with the protagonist, but I couldn't help but find that it got confused in its vision. Too many differing views of "paradise" made "What Dreams May Come" a conflicting movie of itself. Also, 3rd act of the movie starts to fall apart with cheesy settings, redundancy, and a boring turn in terms of storytelling. Not only that, "What Dreams May Come" tries too hard to be emotional... some may say rightfully so because of the traumatic events that occurs in this movie, but the entire package tries way too hard to accentuate the drama. Still, it was entertaining; I'm sure you won't be disappointed.
What Dreams May Come Quotes
There are no approved quotes yet for this movie.