The Whales of August
(1987)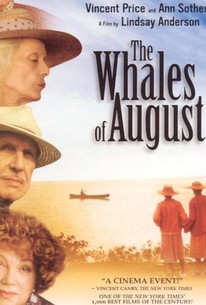 Movie Info
A once-in-a-lifetime cast of veterans performs David Berry's play about Libby Strong (Bette Davis) and Sarah Webber (Lillian Gish), widowed sisters vacationing on a Philadelphia island for their 60th consecutive summer. Libby is blind and embittered, while Sarah is healthy, supportive, and almost annoyingly chipper. Their neighbor Tisha (Ann Sothern) tries to convince Sarah to put Libby in the care of her daughter, but Sarah hasn't forgotten Libby's moral support when her own husband died, and she won't entertain such notions -- until she is swept off her feet by an aging roué (Vincent Price). When Libby spitefully sabotages this romance, an infuriated Sarah decides that gratitude has its limits. But when it actually comes down to selling their summer house and sending Libby packing, Sarah can't do it. In the film's flashback sequences, Libby is played by Margaret Ladd, Sarah by Mary Steenburgen, and Tisha by Ann Sothern's real-life daughter Tisha Sterling. Another film personality of long standing, Harry Carey Jr., is well cast as the sisters' handyman.
Critic Reviews for The Whales of August
Audience Reviews for The Whales of August
This stuffy drama will interest anyone who likes movies about the elderly, but other wise, I'd say stay away from it. It's very boring, slow, and by the middle, I didn't care about the story anymore.
The Whales of August Quotes
There are no approved quotes yet for this movie.