We're Not Married
(1952)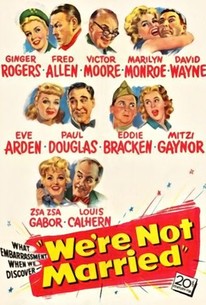 AUDIENCE SCORE
Critic Consensus: No consensus yet.
Movie Info
Having supped full of success with the multi-storied O. Henry's Full House, 20th Century-Fox assembled another all-star "omnibus" film, We're Not Married. The unifying factor of this enjoyable seriocomedy is provided by justice-of-the-peace Melvin Bush (Victor Moore), who learns to his horror that his license is invalid. Bush and his wife (Jane Darwell) feverishly track down the five couples whom he has married "illegally" to inform them of the fact and invite them to renew their vows. Couple #1 is Fred Allen and Ginger Rogers, a husband-and-wife radio team whose huggy-kissy behavior on the air conceals the fact that they'd dearly love to cut each other's throats. Couple #2 consists of David Wayne and his contest-happy spouse Marilyn Monroe, who's just won the "Mrs. Mississippi" pageant. Couple #3, Paul Douglas and Eve Arden, ran out of things to say to each other long ago. Couple #4 is millionaire Louis Calhern and his avaricious young bride Eva Gabor, who intends to jilt the old coot and make off with his millions. And Couple #5 is young GI Eddie Bracken and his pregnant wife Mitzi Gaynor. When Bush delivers the news that these unions aren't legal in the eyes of the state, the results range from poignant to hilarious: particularly satisfying is Calhern's puckish revenge on his gold-digging wife. And yes, that is Lee Marvin as Eddie Bracken's army buddy. ~ Hal Erickson, Rovi
Critic Reviews for We're Not Married
All Critics (4) | Top Critics (1) | Fresh (2) | Rotten (2) | DVD (2)

Five separate stories are wrapped up in this one, and some of them don t click. It s worth seeing, though, if only to enjoy Fred Allen and Ginger Rogers as professional lovey-doveys.
Uneven but entertaining multi-star comedy.
July 19, 2004 | Rating: 3/5
Audience Reviews for We're Not Married
5 short stories tied together with a simple plot device: a marrying judge is not officially recognised for another week, yet performs 5 ceremonies unaware of the time element. And so we get to look in on the lives of those couples who discover that they have to decide whether or not to marry again, and this time legally. The opener has Ginger Rogers and Fred Allen as a bickering pair of "happy" morning radio personalities. Though their story is lame, the performance they put on of their program is okay. None of the stories are wow! worthy. I liked best the tale of the golddigger Zsa Zsa Gabor's comeuppance when she tries to bamboozle hapless mogul Louis Calhern. The affair as a whole is only mildly entertaining.
Kevin M. Williams
Super Reviewer
Jennifer D
Super Reviewer
Sometimes this movie was funny, and at other times it was just an average not so funny comedy. There is a good cast, though, I'll give it that. Still, it's just an okay movie.
We're Not Married Quotes
There are no approved quotes yet for this movie.