Welcome to Collinwood
(2002)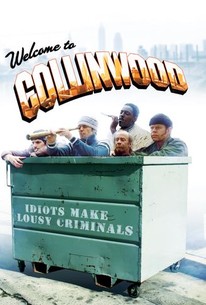 Welcome to Collinwood Photos
Movie Info
A group of likable losers try to pull of what by their standards seems like a major heist in this offbeat crime comedy, loosely based on the classic Italian caper comedy I Soliti Ignoti. A group of sad sacks living in a rundown neighborhood in Cleveland all have one thing in common -- they need money, and aren't especially fussy about how they get it. Riley (William H. Macy) is a guy whose wife has been sent to jail, leaving him to look after their baby, when she's unable to pay a fine. Pero (Sam Rockwell) is in love with a beautiful girl (Jennifer Esposito) who has a roving eye, and he's convinced that a bigger bankroll would help him win her heart. Leon (Isaiah Washington) is a hipster who wants to keep his sister, Michelle (Gabrielle Union), out of trouble. Basil (Andrew Davoli) is a guy with bad luck, and eyes for Michelle. And Toto (Michael Jeter) is a small-time crook looking for something to do -- if it's profitable, all the better. Someone gets the bright idea that a robbery might be the answer to everyone's problems, and with the help of Jerzy (George Clooney), a safe-cracker confined to a wheelchair, they set out to find the right target. Welcome to Collinwood was the first feature film from the writing and directing team of Anthony Russo and Joe Russo; filmmaker Steven Soderbergh and co-star George Clooney served as producers.
Critic Reviews for Welcome to Collinwood
Audience Reviews for Welcome to Collinwood
Entertaining and funny, Welcome to Collinwood is a nice film to watch, but certainly is very weak and poor; what make the original Italian classic comedy "I Soliti Ignoti" much more better.
Lucas Martins
Super Reviewer
Funny. Screwball kind of movie. Well done. William H. Macy is fantastic, as usual.
Cynthia S.
Super Reviewer
½
A gang of down at heel petty crooks inherit what they think is a perfect crime but in execution, things do not go as smoothly as they'd hoped. A kind of Ocean's Eleven for losers, Welcome To Collinwood is a comic heist film that smacks of trying way too hard. I was not surprised to learn it was a remake of a European film because of the broad slapstick and forced wackiness of the whole idea (Jerry Lewis is still one of the most popular comic actors on mainland Europe. Draw your own conclusions...) The cast are all OK and there is little here that offends, but the Clouseau-esque heist is typical of the tone of the whole film; ridiculous coincidences, surreal situations, heavy handed farce and slapstick that plays wholeheartedly for the cheap seats. It's not awful, but with the talent involved I expected a whole lot more.
Welcome to Collinwood Quotes
There are no approved quotes yet for this movie.