Watership Down
(1978)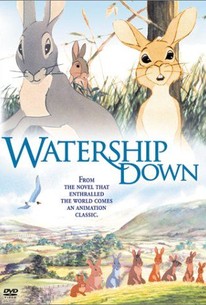 Movie Info
Unique in the annals of animated films, Watership Down is a serious, even grim tale that many will find relentless and depressing and others will find poetic and moving. It doesn't pull any punches. Death -- violent, disturbing death -- is ever present, portrayed in a manner that is astonishingly honest for a cartoon. As a result, it is that rare animated film that really aims for a mature audience, despite its superficial funny animal trappings. It has a brilliant opening, most likely created by UPA veteran John Hubley, which in a primitive and simplistic style relates a creation myth as told by rabbits. The style changes thereafter, with beautiful watercolor backgrounds and a more natural approach to character animation. Unfortunately, the animation suffers somewhat from this point, becoming a bit sloppy, although it continues to portray the characters' movements as realistically as possible. The character designs themselves are rather too similar, with the result that it is sometimes difficult to tell the various rabbits apart. The story is also sometimes told in too-broad strokes, leaving those unfamiliar with the novel confused as to exactly what has happened and, more importantly, why. However, these flaws are redeemed by some unforgettable sequences, including a chilling segment detailing the destruction of the rabbits' warren and a devastatingly sad end sequence in which the Black Rabbit of Death gently takes one of the heroes away with it. Voiced by a fine cast, with stellar work from John Hurt and Richard Briers, Watership Down is an imperfect film with some of the most powerful moments ever created for the genre. ~ Craig Butler, Rovi
News & Interviews for Watership Down
Critic Reviews for Watership Down
Audience Reviews for Watership Down
Watership Down shows faithfulness and outmost respect for the novel. I admire the choice to go in the direction of adults for a film that features bunnies. It's amazing how a cartoon can really push the barriers for emotional impact. It's suprisingly gory (it was a pleasant one). I cry when I watch Watership Down. It's an underated animated jewel that one day will be appreciated for it's majesty. An absolute classic, among my favorite films.
Directors Cat
Super Reviewer
½
This is possibly one of those innovative animated tales that is nowhere near recognized for the strength and creativity it has. Watership Down is a story that makes Bambi looked entirely phoned in and misguided (not saying it is). Strong in voice acting and stunning artwork, this film starts off just a little lacking in the animation department, but that changes less than ten minutes in, for you are taken away by the complexity, drama and overall tension of the story and environment. And not only this, the film is created in such a way that it is far more suitable for adults than children, even if it is centered around a collection of rabbits and their search for a new home. Most likely where Charles Grosvenor got the plotline for his much more "kids-friendly" film Once Upon A Forest, Watership Down is edgy, dramatic, truly beautiful and wonderfully engrossing, one of the best animated films I have ever seen.
Matthew Roe
Super Reviewer
½
Such a great movie, loved it as a kid and still stands up today. Brings a tear to my everytime I watch it.
Stuart Brooks
Super Reviewer
Watership Down Quotes
There are no approved quotes yet for this movie.