Watermelon Man
(1970)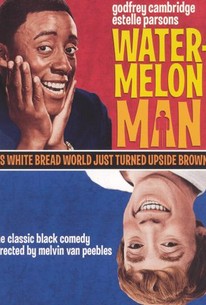 AUDIENCE SCORE
Critic Consensus: No consensus yet.
Movie Info
When racist white insurance agent Jeff Gerber wakes up one morning to discover that his skin has turned black, he experiences bigotry first hand as his family, neighbors, and employers react to his transformation. Now suffering from the effects of racial discrimination, Jeff must reassess his priorities in life.
Critic Reviews for Watermelon Man
All Critics (4) | Fresh (3) | Rotten (1) | DVD (1)
Problem is it hammers home its point about racism being alive and well in America until it becomes annoyingly repetitive and preachy.
It is not the most stalwart ethnological study of its time, though it is significant for its heritage, its confrontation, and its violation of taboos.
Audience Reviews for Watermelon Man
½
It's blatantly obvious that we're supposed to be confronted with the social problems of race in America from a mixture of comedy and drama, but I couldn't help but keep myself from asking how in the world he got turned into a black guy in the first place. The ridiculousness of the answers given by him and the others in the film on that problem just irked me. I was so hung up on the how that I didn't enjoy the rest so much. But I will say that it gives a nice look at the differences between the way people are treated depending on their skin color, it's pretty funny, and not a very bad movie over all.
The film Melvin Van Peebles made before he did Sweet Sweetback's Baadassss Song. Set during the 60's/0's race riots, Jeff Gerbler is a white gung-ho, un-self-aware and un-popular insurance-selling family man who wakes up one morning to find he's turned black. Cue panic, surpise, adverse reactions from the neighbours etc etc. Godfrey Cambridge carries the whole film, and his move from denial to acceptance is punctuated by a running stream of dryly sarcastic and very funny dialog. Excellent,
.
½
classic message laden movie..Cambridge's signature role...funny and insightful and a cool soundtrack to boot....
Watermelon Man Quotes
There are no approved quotes yet for this movie.