Waterland
(1992)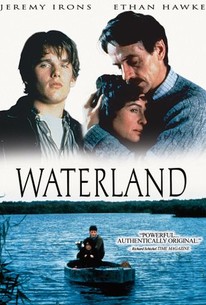 Movie Info
Based on the novel by Graham Swift, this drama follows the past and present crises of schoolteacher Tom Crick (Jeremy Irons), who attempts to resolve the problems in his own life and the apathy of his students by relating stories of his troubled childhood in the English Fens (a marshy region in Britain).
Critic Reviews for Waterland
Audience Reviews for Waterland
Based on the novel by Graham Swift - a wonderful British author - Waterland tells the story of a history teacher who tells his students as much about himself as he does history. What is strong about the novel is what is weak about the film. The novel explores a post-modern conception of history that suggests we get stuck in these endless spirals of ironic happenstance, and in order to understand it all, we must go back, and in order to understand what we see when we go back, we must go back farther and farther. There's a little bit of this in the film, but certainly not enough for the audience to understand Swift's point. Instead of a complex exploration of post-modern theory and history, we're left with a fairly basic film about a man dealing with the events of his childhood. And how does that story fair? Not badly. It has its moments of affecting drama, both in the present and the past, but it's devoid of any grand significance. Additionally, the ending is too intentionally vague. We're given to understand certain conclusions about these characters' futures, but we can't figure out how they get from the point A, when the credits roll, to the point B, which we are told will happen. What is more, the plot-line between Crick and Price ends in a disappointing cliche. Overall, I think I should like this film less than I do. In the end, I think the source material, Swift's book, is so good, and the performances by Irons, Cusack, and Warnock were good enough to make up for the failings of the screenwriter and director.
Jim Hunter
Super Reviewer
Waterland Quotes
There are no approved quotes yet for this movie.