Warrior Queen
(2006)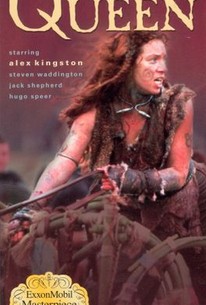 AUDIENCE SCORE
Critic Consensus: No consensus yet.
Movie Info
ER regular Alex Kingston stars as the title character in this British-produced biopic of first century A.D. "warrior queen" Boudica. After the death of her husband, King Prasutagus (Steven Waddington), the feisty Boudica becomes the leader of the Iceni, a Celtic tribe living in East Anglia. Though Boudica and her followers put up a valiant defense, their homeland is overrun by the Roman legions of the mad emperor Nero (Andrew Lee Potts), who has devised a hellish scheme to put the "ginger bitch" in her place. Beaten and bound by the conquering soldiers, Boudica is forced to watch as her daughters are brutally raped. Assuming that the Iceni queen has been humbled and no longer poses a threat to the Empire, Nero spares her life -- which turns out to be one of the emperor's biggest errors in judgment, as the vengeful Boudica and her army set about to prove in bloodthirsty fashion that she is, to paraphrase a much-later British monarch, a queen with "the heart and stomach of a king." In America, Warrior Queen proved to be an uncharacteristically violent Masterpiece Theatre offering when it was broadcast over PBS in the fall of 2003.
Audience Reviews for Warrior Queen
It was good in a way, but it was a bit thin on plot. There were some great things they left out.
Timothy O'Brien
Super Reviewer
Warrior Queen Quotes
There are no approved quotes yet for this movie.