The War Tapes
(2006)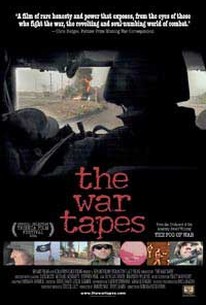 TOMATOMETER
AUDIENCE SCORE
Critic Consensus: Candid, eye-opening footage gives viewers a close-up -- and educational -- look at the experiences of American soldiers in Iraq, a viewpoint not normally seen.
Movie Info
Uses footage shot by three members of the National Guard deployed in Iraq. Sergeant Steve Pink is a wisecracking carpenter who aspires to be a writer. Sergeant Zack Bazzi is a Lebanese-American college student who loves to travel and is fluent in Arabic. Specialist Mike Moriarty is a father who seeks honor and redemption. Part journal, part jokebook, part witness, the film offers a view of war rarely seen from the inside out. We learn what the soldiers are thinking every step of the way, from their views on the media's coverage of Operation Iraqi Freedom to how they miss loved ones back home.
News & Interviews for The War Tapes
Critic Reviews for The War Tapes
Audience Reviews for The War Tapes
½
Beat novelist and World War II veteran Jack Kerouac ceaselessly typed his second book onto tele-type paper taped together in one continuous scroll, such that the final product proved to be one expansive manic sentence. Thanks to the graces of his gifted editor, that sentence became On the Road, the now-classic tome on a search for identity in post-war America. Director Deborah Scranton had no less of a challenge in editing someone else's vision into the stark war narrative The War Tapes, in which she effectively communicates the incommunicable: War is a Hell that continues once the fighting has stopped. Culmed from over 700 hours of footage shot by three members of a National Guard deployment in Iraq, The War Tapes smartly forsakes a documentary format's supposed objectivity for a frank immersion into what may be one of America's darkest hours. Given a director's individual political, philosophical, and religious convictions, objectivity in documentaries proves an impossibility anyway, especially considering how awash our culture is in the subjective American media. The soldiers take notice of this and the corporate profiteers, testament to Scranton's choosing her narrators well, an astute mix of humor, pathos, courage, and, yes, hope. When Audie Murphy so wisely quipped "War is hell," there came the aspersion that heaven might also exist within the same continuum. Juxtaposing footage from the frontlines of war-torn Iraq with that of families on the homefront, The War Tapes only shows us that the same maudlin spirit seems to permeate the collective mindset-especially after the soldiers return as changed men-a telling commentary on how weary and identity-challenged our embattled society may have become. Bottom Line: A stark and frank home movie from Hell-on-Earth.
The War Tapes Quotes
There are no approved quotes yet for this movie.