War on Everyone
(2017)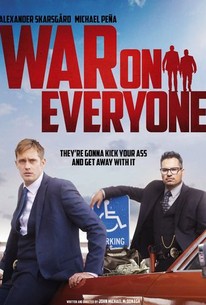 TOMATOMETER
AUDIENCE SCORE
Critic Consensus: War on Everyone boasts just enough dark humor and infectious energy to make this somewhat middling entry from writer-director John Michael McDonagh an entertaining diversion.
Movie Info
TERRY (Alexander Skarsgård) and BOB (Michael Peña)are two crooked cops who frame and blackmail criminals all over town. Looking for the ultimate pay-off, they try to extort a strip-club manager (Caleb Landry Jones) and his eccentric, junkie boss, (Theo James), but get more than they bargained for when their hair-brained scheme uncovers a bigger, darker secret.
News & Interviews for War on Everyone
Critic Reviews for War on Everyone
Audience Reviews for War on Everyone
Dark comedy and a throwback to the mismatched buddie cop films that Hollywood did so well. The film has a very mixed reception but I thought this film was clever and very original. The humor hits hard from the opening and while the pace lags at times, you just know the next beat will be just as interesting. This feels like a love letter to Shane Black who also had a lack of love with a recent revisit to the cop genre. This film has it all but never feels crowded or disinterested in its characters. I really had hoped to see this in cinemas but unfortunately it wasn't to be, hopefully will develop the following it deserves. 06-06-2017.
Brendan O'Connor
Super Reviewer
I don't know if any of you knew this, and it's not like any of you would have any reason to know this, but I fucking loved last year's The Nice Guys. For those of you who are unaware, that's the film where Ryan Gosling and Russell Crowe team up to solve the disappearance of this teenage girl, which they find out is part of an even bigger conspiracy. But the point is that I love this movie with a passion. It's got a fantastic script full of incredibly clever and funny dialogue. Not to mention the fact that Ryan and Russell have absolutely amazing chemistry with one another. It all adds up to a pretty fucking great movie, if you ask me. It was certainly one of my favorite movies from last year. Which brings us to War on Everyone. I'll be upfront, this move is never as good as The Nice Guys. Hell, the worst scene in The Nice Guys, and this is simply a hypothetical, is probably better than anything in this entire movie. And that's not to imply that this film is terrible or something, that's just how great The Nice Guys is. Having said all of that, there are certainly some similarities between the two. Both look at a unconventional partnerships, though the chemistry in Nice Guys is far more antagonistic at first. This movie looks at a couple of small-time, crooked cops who lie and manipulate people to get their way. These two get caught up trying to solve this heist, which gets more and more complicated as the narrative progresses. I will say that, quite frankly, the story isn't exactly as interesting as everything else surrounding it. John Michael McDonagh, writer and director of this film, also wrote and directed The Guard and Calvary, both excellent films starring Brendan Gleeson. This movie, admittedly speaking, isn't as effective as either of those two. I just think it's missing a certain something that made those two films great, particularly Calvary. This is meant to be more an inappropriate, but very entertaining, black comedy featuring two contemptible cops as our heroes, who are chasing down even worse people than themselves, if you can believe that. But I'll be damned if Michael Pena and Alexander Skarsgard didn't try their damnedest to make me like them. And I'd be lying if I said that their attempts didn't work. As bad as these two characters are at their jobs, there's no way that they're ever as bad as the people they're chasing down. Michael and Alexander have some pretty fantastic chemistry together, if I'm being honest. These two characters have been partners prior to the film and Michael and Alexander do a great job at portraying that. They really came across as good friends. Friends who completely disrespect the rules that are set in place in order to keep them in check, but good friends for a long period of time nonetheless and that is a testament to the chemistry between the two leads. The humor in the film, at least to some, will be seen as hit and miss. It's certainly got humor would consider to be politically incorrect, but I feel that the humor in this film is more satirical than anything else. It pokes fun at cops and some of the stereotypes associated with them. If it's well-written, then I really have no problem and I felt that this film, in spite of its narrative flaws, was well-written. The dialogue is very strong and the characters, despite not having much depth, are still memorable and interesting. The problem with the film narrative is that it feels kind of scattered. At first it's about this heist that went wrong, then it's about Terry and Bob (our lead characters) trying to claim the money from the heist as their own. And then it's about Terry and Bob killing everyone for revenge for what they did to another character in the film. The narrative just isn't as focused or tight enough as the characters in the film are. McDonagh's previous film, Calvary, built to this moment where the lead character, a priest who was trying to figure out who wanted him dead for an entire week, is murdered. Because of that, the story felt focused and everything felt like it served the greater goal at the end. They still managed to tell individual stories within this context, but it still all helped in getting to the climactic act. This movie lacks that narrative focus and that's just a damn shame, because the rest of the movie is so damn good in comparison. I wouldn't say that this is a very good movie, because of what I just mentioned, but it's very good at being a good movie. The dialogue is very good, the acting is even better and that, to me, makes this an entertaining flick. I can't say that this is gonna be everyone's cup of tea, it's clearly gonna be hated by some people, but I enjoyed myself watching this movie more than I thought I would. I'd say this film is worth a shot, even if you end up hating it. It's on Netflix, so watching it should be harmless if you're subscribed, it's not like you'll pay your subscription solely to watch this. Fun flick.
Jesse Ortega
Super Reviewer
½
After two brilliant outings with The Guard and Calvary, all eyes were on Irish writer/director John Michael McDonagh's third feature. There's a problem though, and that problem is the same one that plagued his brother Martin when he delivered the woefully misjudged Seven Psychopaths after his successful debut, In Bruges. Martin's problem was heading straight for Hollywood while forgetting to take a coherent script with him and this film has a similar sense of deja vu. Plot: Terry Monroe (Alexander Skarsgård) and Bob Bolaño (Michael Peña) are two cops who are just as corrupt as the criminals they arrest. However, when they try and shake down a strip club owner, they stumble on an even bigger crime lord. Leaving behind the idyllic coasts of Ireland, McDonagh's third outing focuses on the sun kissed streets of L.A. where he delivers a generic buddy/cop story. He attempts to play with conventions a little by throwing in some one liners that are sure to cause offence with some minority or other but the jokes are strained and few, if any, work at all. You might think that if the humour doesn't fly then you'll find something else to grab your interest but there isn't anything. The story lacks drive and there's nothing here that we haven't seen before. In fact, most recently Ryan Gosling and Russell Crowe tread the same ground with The Nice Guys with much more entertaining results. I actually felt sorry for Skarsgård and Peña; they are two gifted actors but there's no material here to work with and, together, they simply lack chemistry. There's also no attempt, whatsoever, to craft a three dimensional villain. What we get in this respect is strictly a stereotype with Theo James' upper-class, nasty attitude and posh English accent. Some vibrancy is attempted with the introduction of Caleb Landry Jones' flamboyant strip-club owner but the only colour he injects is his bright yellow socks. It's actually hard to believe that this was the same person who wrote and directed the sublime Calvary - one of my favourite films of 2014. An absolutely pointless and messy endeavour that suffers horrendously from a lazy script In fact, to quote the film itself, "it starts and ends with the script. If you ain't got a good script, you ain't got shit". Wise words but it's just a shame that McDonagh didn't pay heed to them. Mark Walker
Mark Walker
Super Reviewer
War on Everyone Quotes
There are no approved quotes yet for this movie.