Walking and Talking
(1996)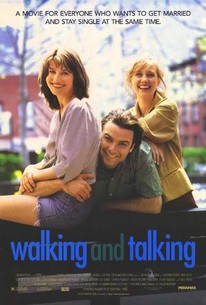 Walking and Talking Photos
Movie Info
Laura and Amelia are the best of friends. Both have high-powered careers and live in Manhattan and both are very much looking toward the future. This bouncy comedy chronicles the ups and downs of their friendship as Laura prepares to marry Frank, and Amelia continues to deal with her many romantic travails. Amelia feels a little resentful of Frank because Laura is so preoccupied with wedding plans that she has little time to listen. Amelia was going out with Andrew, but she couldn't stand his obsession with phone sex so she next accepts the offer of a video-store clerk, Bill. He has a thing for horror movies and after a one-night quickie with him, Amelia bugs out. Soon afterward, the increasingly depressed, desperately lonely young woman learns that her beloved cat has cancer. But she is not the only one having problems as Laura begins to grow nervous about the nuptials. For some reason, she begins avoiding her good-natured fiancé at every turn. Eventually Laura and Amelia meet to hash out their own friendship and set it upon a smooth course again.
Critic Reviews for Walking and Talking
Audience Reviews for Walking and Talking
I thought this movie was sweet. I don't get the title, however. I like Catherine Keener quite alot...not sure that I have ever seen a movie with her in it that I didn't like.
Cynthia S.
Super Reviewer
½
"Oh my god, this sponge that I'm washing the dishes with is unbelievable... oh my god it smells like a hotdog! It's disgusting... and I can't stop smelling it!" Ok, out of context that line probably isn't very funny, but when I was watching this film it made me burst out loud with laugher. This film concentrates on the relationship between two best friends, played by Catherine Keener and Anne Heche, and like writer/director Nicole Holofcener's other films, Friends With Money and Lovely & Amazing, the writing and the acting is very sharp. This is probably the strongest of the three films (and it's also the earliest) because unlike the other two we get something of a resolution between the characters, and an actual ending. This is a very witty, heartfelt and realistic film with some surreal lines that just seem perfect to me. Oh, and the cat is adorable.
Daniel Parsons
Super Reviewer
I don't recall being so filled with hatred when watching a movie. This proves the indie movement wasn't all good.
Michael Gildea
Super Reviewer
Walking and Talking Quotes
There are no approved quotes yet for this movie.