Wait Until Dark
(1967)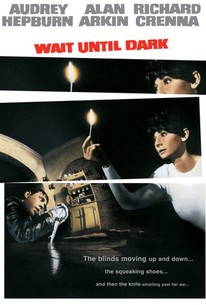 Movie Info
Wait Until Dark is an innovative, highly entertaining and suspenseful thriller about a blind housewife, Susy Hendrix (Audrey Hepburn). Independent and resourceful, Susy is learning to cope with her blindness, which resulted from a recent accident. She is aided by her difficult, slightly unreliable young neighbor Gloria (Julie Herrod) with whom she has an exasperated but lovingly maternal relationship. Susy's life is changed as she is terrorized by a group of criminals who believe she has hidden a baby doll used by them to smuggle heroin into the country. Unknown to Susy, her photographer husband Sam (Efrem Zimbalist Jr.) took the doll as a favor for a woman he met on an international plane flight and unwittingly brought the doll to the couple's New York apartment when the woman became afraid of the customs officials. Alone in her apartment and cut-off from the outside world, Susy must fight for her life against a gang of ruthless criminals, led by the violent, psychotic Roat (Alan Arkin). The tension builds as Roat, aided by his gang, impersonates police officers and friends of her husband in order to win Susy's confidence, gaining access to her apartment to look for the doll. The climax of the film, a violent physical confrontation between Susie and Roat in her dark kitchen, is one of the most memorable and frightening scenes in screen history. All performances are outstanding, particularly those of Audrey Hepburn who plays a vulnerable, but self-reliant woman, and Alan Arkin, in perhaps his best role, as the ruthless, manipulative Roat.
Critic Reviews for Wait Until Dark
Audience Reviews for Wait Until Dark
½
If it's tense and nerve-wracking thrills that you're looking for, you'll be hard-pressed to find better than this living room drama about drug dealing murderers trying to get a blind woman (Audrey Hepburn) to hand over their misplaced stash. Alan Arkin shines as a particularly dark presence, but it's Audrey's show all the way.
Kevin M. Williams
Super Reviewer
½
This is such a well-made, exquisitely-directed and nail-biting thriller that we easily overlook how contrived the plot may be, while Audrey Hepburn and Alan Arkin elevate this to a classic and offer us a climax that should be remembered as one of the most terrifying of all times.
Carlos Magalhães
Super Reviewer
A group of con artists try to get a doll, laden with drugs, from a blind who unknowingly received it. A wonderful and tense thriller, Wait Until Dark works on almost every level. Alan Arkin, who made a career out of playing charismatic but curmudgeonly goofs, is bone-chilling as the sadistic Roat, and Audrey Hepburn, classic and demure, is every bit the damsel in distress. The plot unfolds brilliantly, and the con artists' plan is both clever and mysterious. The climatic scene thrills in almost total darkness. I wish that the film had not shown us what is in the doll until the very end so that we can -- like Susy -- slowly discover the plot. Overall, this is classic thriller that stands the tests of time.
Jim Hunter
Super Reviewer
Wait Until Dark Quotes
There are no approved quotes yet for this movie.