Wagons East!
(1994)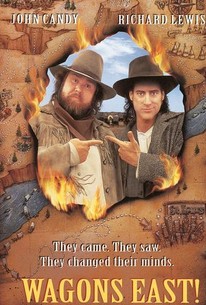 TOMATOMETER
AUDIENCE SCORE
Critic Consensus: Wagons East! is a witless, toothless satire of Westerns that falls far below the standard set by Blazing Saddles, and is notable only for being John Candy's final screen performance.
Movie Info
Tired of frontier living, a group of pioneers decide to give up and go home in this comedy. Unfortunately, they are saddled with a drunken, bumbling wagon-master, and are soon under attack from gunslingers hired by a group of pro-frontier railroad barons who want to keep them from reaching home.
News & Interviews for Wagons East!
Critic Reviews for Wagons East!
Audience Reviews for Wagons East!
Wagons East is an entertaining and underrated film that was the last feature starring John Candy, who died on the set of the film. The film does boast some flaws, but is nonetheless fun, humorous and well acted. Although not as great as other Western comedies, this is a film that still manages to overcome its flaws due to Candy's usually memorable screen presence. Wagons East is not as great as Blazing Saddles, but it manages to be a whimsical comedy that doesn't deserve the flack it has received. Although not the best John Candy film, this is not a bad movie either. In terms of a comedy, this is a humorous picture that definitely should be seen. The cast here are good and aside from John Candy, John C. McGinley is one of the standout aspects of the film as homosexual bookseller Julian. I thought he was very funny in his performance, and I always enjoy McGinley's work no matter what he does. Watching Wagons East, I don't understand all the hatred that the film has garnered upon its release and it definitely is an underrated movie that brings on a few good laughs, an interesting story and a few standout performances. Although it had its fair share of flaws, I quite enjoyed this comedy yarn and it doesn't deserve all the negative reviews it has received. Wagons East is no Blazing Saddles, but it makes a pretty mindless hour and a half of comedic fun that isn't that bad. This is one of those films that are underrated for what it is, and though it is far from the best Western comedy, it's not the worst. If you enjoy John Candy, give this one a shot. Unfortunately this was his final film, but at least he managed to make me laugh one last time with this one.
½
Meh, It's just so predictable and average. Very minimal laughs.
Marion Ravenwood
Super Reviewer
Wagons East! Quotes
There are no approved quotes yet for this movie.