Vulgar
(2002)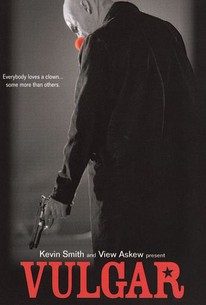 Movie Info
Kevin Smith co-produced this bizarre (and sometimes very dark) comedy from his high school friend and occasional acting colleague Bryan Johnson. Will Carlson (Brian O'Halloran) is a second-rate children's entertainer who barely scrapes out a living appearing as Flappy the Clown at children's parties. Determined to make a living and support his harridan mother through clowning, Will gets the idea to change his act, and starts hiring himself out as Vulgar the Clown, a cross-dressing gagman who performs at adults-only functions. Vulgar's debut performance, however, proves worse than disastrous; hired to appear at a bachelor party, Vulgar is gang-raped by three subnormal rednecks who were expecting something quite a bit different. Will's life seems to have hit rock bottom when he stumbles into the middle of a police standoff with a deranged father holding his children hostage. Will, in full Flappy the Clown regalia, accidentally saves the day, and soon the story of the heroic clown is all over the local media. A television producer gets the idea of building a children's television show around Flappy, and it looks like Will may have finally hit the big time. But just when things begin to look up, Will is informed that someone videotaped him being raped at the bachelor party, and a blackmailer threatens to release the tape and destroy his new career if Will doesn't pay up. Vulgar features supporting performances from several members of Kevin Smith's stock company and production team, including Jason Mewes, Scott Mosier, and Smith himself. The film underwent several attempts to secure an "R" rating from the MPAA.
Critic Reviews for Vulgar
Audience Reviews for Vulgar
Utterly disturbing, the message was unclear, totally revolting.
Sylvester Kuo
Super Reviewer
I don't know what I expected going in, but I think that if this movie had more faithfully lived up to its title it would have been a lighter and much better movie. Instead this movie is just kind of dark and sad and unrelentingly bleak. Everything about this seems depressing and really drags you down, which is a bit of a shame, because a movie called Vulgar had the potential to be a boundary-pushing, shockingly hilarious opus. The Vulgar the Clown character alone held such potential. It's too bad this ended up being such an oppressive, harrowing and tragic downer.
Emily Armstrong
Super Reviewer
½
Everyone in the film sounds like they swallowed a dictionary, but the premise is interesting.
Tim Salmons
Super Reviewer
Vulgar Quotes
There are no approved quotes yet for this movie.