Voy a Explotar (I'm Gonna Explode)
(2008)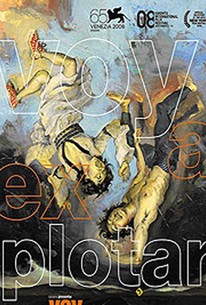 Voy a Explotar (I'm Gonna Explode) Photos
Movie Info
Director Gerardo Naranjo transplants the myth of the last romantic couple to upper middle-class Mexico City with this vital and hectic tale of a young couple who throw caution to the wind and set out in search of their true fate. Román is the son of a contemptible, right-leaning congressman. Recently enrolled in a new high school, the rebellious teen clumsily attempts to hang himself on-stage at the big talent show. Maru is the sole member of the audience to applaud, earning both students a day of detention. After bonding during the course of their punishment, Román and Maru grab daddy's gun, steal a Volkswagen, and hit the road bound for nowhere.
News & Interviews for Voy a Explotar (I'm Gonna Explode)
Critic Reviews for Voy a Explotar (I'm Gonna Explode)
Audience Reviews for Voy a Explotar (I'm Gonna Explode)
½
Even though it features some great dialogue, especially as Maru (María Deschamps) narrates, this darkly comic Mexican take on teen angst makes for a really dull, self-important film. I was a teenager too, not so long ago, but I really can't identify with the "issues" of the protagonists. They're not troubled souls, as the film desperately wants you to believe, they're just whiny and immature brats. Frankly, a whole movie about Román's (Juan Pablo de Santiago) parents, played by Daniel Giménez Cacho and Rebecca Jones, would have been much better. Their presence, along with the strikingly beautiful cinematography, are the only worthy aspects of this so-called drama. In the end, I was almost tired from rolling my eyes so much. And they criticize me for not believing in Mexican cinema...
Fernando Rafael Quintero Castañeda
Super Reviewer
½
The movie has all the elements to make a great story, it looks great and has some very beautiful moments of true honesty where you conncect in a fantastically painful way with its characters - the problem is that there aren't enough of those moments and most of the time the characters are actually quite fucking stupid and annoying.
Quinto Wallight
Super Reviewer
Voy a Explotar (I'm Gonna Explode) Quotes
There are no approved quotes yet for this movie.