WaSanGo (Volcano High)
(2001)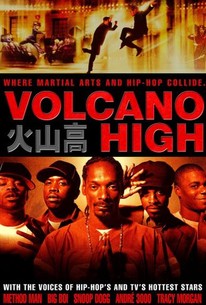 AUDIENCE SCORE
Critic Consensus: No consensus yet.
Movie Info
The highly anticipated third film from South Korean director Kim Tae-kyun, Volcano High is the story of high school-aged martial arts wizards in search of a mystical text that will restore harmony to their school. Set in an indeterminable time -- as well as mirroring many of the themes and styles found in the U.S. films The Matrix and Harry Potter and the Sorcerer's Stone -- Volcano High is in a state of chaos that has lasted nearly 20 years, since a vast Teachers Battle sent the education system into a downward spiral of intense fighting. Transfer student and frequent school expellee Kim Kyeong-su (Jang Hyeok) arrives at Volcano High and quickly makes the acquaintances of a number of the top dogs at the school -- including the equally skilled fighters Yu Chae-yi (Shin Min-ah), Jang Ryang (Kim Su-ro), and Song Hak-rim (Gweon Sang-woo). This trio begins to learn of the vastness of Kim's skills, as well as suspecting that there may be more to him than meets the eye as they seek out the aforementioned text that will heal their school and others from the vicious warring currently taking place. Volcano High was released in a 118-minute version in South Korea, but was cut to 92 minutes for its festival screenings in 2002, which included the Toronto Film Festival, the Edinburgh Film Festival, and the Berlin Film Festival. ~ Ryan Shriver, Rovi
Critic Reviews for WaSanGo (Volcano High)
Audience Reviews for WaSanGo (Volcano High)
This is the reverse of the coin of what Crows Zero was. While Crows presents you engaging and interesting characters above anything else Volcano High is a movie that cares little to nothing about the characters, and is just always eager to jump to the next fight sequence. The result is a series of wooden action pieces that never arise the slightest sense of excitement or tension.
Tsubaki Sanjuro
Super Reviewer
Tedious and not even the "action" scenes would save this. The synopsis for this film sounds really cool, but his seems to be be "Kibakichi (Samurai Werewolf)" all over again. The film is really disjointed, the story slugs along about a scroll that doesn't, but does exist. The flashback scenes just feel tiring. This whole film made me feel sleepy, because it was just that boring.
Marion Ravenwood
Super Reviewer
½
Thought it would be a rip off of the X-Men, but was surprised to find a comedy action film different from what I expected.
Anthony Valletta
Super Reviewer
WaSanGo (Volcano High) Quotes
There are no approved quotes yet for this movie.