Viva la libertà
(2014)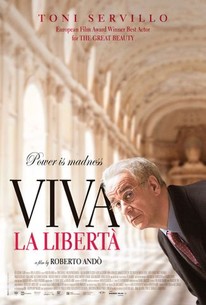 Movie Info
In this elegant and chilling story about world politics, the great Toni Servillo defies expectations playing two roles, imbuing each character with brilliant nuance and astonishing attention to detail. In the first, he personifies political failure in the role of the disgraced ideologue and party leader, Enrico Oliveri. In the second, he embodies the shrewd genius of a madman as Oliveri's unhinged twin brother who seizes control of the nation amidst the void of his brother's disappearance. (c) Distrib
Critic Reviews for Viva la libertà
Audience Reviews for Viva la libertà
½
In "Viva la Liberta," Enrico(Toni Servillo) is in a bit of a rut lately. Not only are his poll numbers as leader of the left in Italy way down but to add insult to injury he also gets heckled at his own party congress. Desperately needing a timeout, he leaves without telling anyone and holes up with his old friend Danielle(Valeria Bruni Tedeschi) and her family in Paris. Andrea(Valerio Mastandrea), one of Enrico's aides, looks to Enrico's brother Giovanni(Toni Servillo), an intellectual who has just gotten out of a mental hospital, for clues on his brother's whereabouts. But what he gets instead is a headache when Giovanni talks to a journalist thinking he is Enrico which at the same time gives Andrea an idea. If "Viva la Liberta" had just stopped with Toni Servillo's tremendous dual performance and its plot about doppelgangers in politics, I would gladly understand the complaints about this movie's lack of originality. But luckily it does not stop there, as the movie is also interested in carefully exploring mental illness and the world of make believe, not only in the deception at the heart of the movie, but also the world of movies, as Enrico takes the time for once to consider an alternate path for him and his brother, along with maybe one for the left in Italy.
Viva la libertà Quotes
There are no approved quotes yet for this movie.