Visitor Q (Bijitâ Q)
(2002)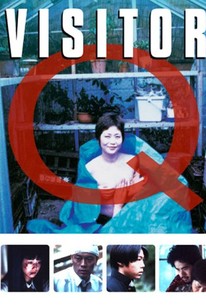 Visitor Q (Bijitâ Q) Photos
Movie Info
Takashi Miike spins this black comedy about the most dysfunctional family on the planet. The film opens with a father (Kenichi Endo) -- a gung-ho TV reporter -- not only paying to have sex with his estranged prostitute daughter in an anonymous hotel room but also videotaping the act as part of a documentary about "young people today." His son, who is brutalized on a daily basis by schoolyard bullies, beats, whips, and terrorizes his mother (Shungiku Uchida), who is covered with welts and bruises. Mom in turn finds solace in heroin and is not above hooking to pay for the habit. Their lives change for the better when a mysterious stranger (Kazushi Watanabe) cracks the father over the head with a rock and eventually shows them the way to familial happiness. Of course, this way includes multiple murders, necrophilia, and a kitchen full of breast milk. ~ Jonathan Crow, Rovi
Critic Reviews for Visitor Q (Bijitâ Q)
Audience Reviews for Visitor Q (Bijitâ Q)
½
It's hard to plainly say I "like" Visitor Q because its subject matter is so disturbing, but viewing it in the long, rich tradition of experimental films coupled with a dash of art-house form, Visitor Q does have its merits. Films of this ilk don't merely exist to shock and appal the viewer (although that's certainly part of it) they are meant to convey a series of themes and messages residing (at times even hiding) underneath the surface--it's just harder to find those messages with the constant barrage of stirring and bizarre imagery. While Visitor Q probably isn't as biting as Pasolini, as purposeful as Jorodowsky, or as satirical as Bunuel, it does speak to the amazing versatility of Taskashi Miike. Here, he plays with form so masterfully. The cross-cutting between these insane scenes; the background imagery; the rare moments of pathos were pathos shouldn't be; the quick tonal shifts, and the seamless transitioning between hand-held and pull-ins to put you, the viewer, in a creepy voyeuristic position, a front row seat to the perverse happenings. That position made me feel very uncomfortable -- and therein lies the point: with our endless fascination with "reality TV," we line up in droves to watch people, family, friends' most intimate occurrences play out in front of us as "entertainment." In the case of celebrity, one can make a great argument that we love watching people crumble in front of our very eyes as well. Where is the line? How much disintegration can we handle, since we, in a way, ask for it? Miike is able to take these ideas (along with a commentary on the "do nothing" state of the modern family, and the fragility of Japanese culture), and integrate them into an experimental, art-house, comedy thriller. In fact, you probably can't lump this film into one genre -- and yet, it plays effortlessly. That's a triumph. This film will challenge you in ways few can. Whether you like it or not, it will stimulate you. It takes an astute viewer to see beyond the horrific, but if you like and/or are open to the truly exaggerated, surreal and confrontational, you might get something more out of Visitor Q than meets the eye.
Jonathan Hutchings
Super Reviewer
½
Typical family dysfunction taken to the nth degree. The fact that it is shot with video makes it all the more disturbing and gives a sense of realism to the truly bizarre. It is one of the only times I felt like I was being a voyeur. Hell, it could be the future of reality television. It is incredibly shocking and that is the point of it. I get it. And I cannot think of a good reason why I would want to watch this again seeing as I had no fun at all watching it this time. If that makes me not a "real movie buff", so be it.
Incest, sodomy, snuff, murder, necrophillia and breast milking are the order of the day in Takeshi Miike's deranged tale about a shattered, dysfunctional family who take in a mysterious stranger who sets about restoring some domestic harmony in his own perverse way. Despite the realistic documentary style approach of filming the movie is too outrageous to be taken seriously as there's a very dark humourous tone to it all. You may laugh at times but you'll feel incredibly dirty for doing so. Not for the easily offended.
Visitor Q (Bijitâ Q) Quotes
There are no approved quotes yet for this movie.