Visiting Hours
(1982)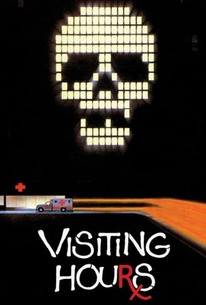 Movie Info
A crazed, women-hating killer (Michael Ironside) rapes and brutalizes journalist Deborah Ballin (Lee Grant). When he discovers that his attack didn't kill Deborah, he comes to the hospital to finish what he started.
Critic Reviews for Visiting Hours
Audience Reviews for Visiting Hours
Mediocre Slasher with clichéd genre elements, Visiting Hours is uninspired and is a film that we've seen many times before. The problem with the film is that it is a film that we've seen many times before, made in 1982, by this point, the Slasher genre was in high gear, and many films were released, some were good, others forgettable. Visiting Hours is a forgettable one. The cast do what they can with the material. Talented actor Michael Ironside is effective here, but the films falls apart due to a lacking script and it's a shame because he is an effective villain. Genre fans may be disappointed by this one, and if you want the better Hospital themed Slasher film, check out Hospital Massacre instead. This film should have been better, but it feels rushed because of the fact that every studio were trying to outdo Friday the 13th and make a quick buck, it just ends up being another film that suffers from a plot that adds nothing new to the formula. Add to that a low body count, lack of any real suspense, and you have a Slasher outing that doesn't deliver on its interesting premise. If you're going into this expecting a great horror film, you'll sadly be disappointed. You won't find anything really engaging here. This film is quite boring and never really entertaining. This is a mediocre affair that never takes off and just starts coming apart halfway through. Though it's a film that should have been good, everything just seems out of place to really make it a worthwhile experience for horror fans.
A surprisingly satisfying 80's slasher featuring big stars. The storyline was pretty average but the good acting made up for the flaws. There are many plot holes left unanswered, but I was really glad that it didn't feature stupid teenagers and doesn't drag the film on for no reasons, instead, straight to the chase. It's one of the few gems from the 80's that will keep you jumpy for the rest of the day.
Sylvester Kuo
Super Reviewer
½
An average horror movie, predictable, and pretty boring for the majority of the film.
Visiting Hours Quotes
There are no approved quotes yet for this movie.