Visions of Light: The Art of Cinematography
(1993)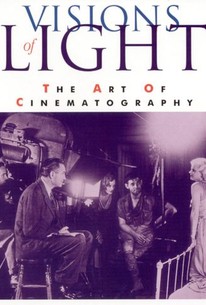 Visions of Light: The Art of Cinematography Photos
Movie Info
Featuring clips from over one hundred films and interviews with numerous famed directors of photography, the documentary Visions of Light: The Art of the Cinematographer provides a general overview of the history of cinematography by focusing on some of the cinema's greatest visual achievements. Though all periods are covered, from the early days black and white expressionism and experimentation to the refined techniques of modern-day color cinematography, the film refrains from a strict chronology. Instead, Visions of Light is structured around a series of interviews by screenwriter and film critic Todd McCarthy, whose subjects include such notables as Michael Chapman, Ernest Dickerson, James Wong Howe, Gordon Willis, Vittorio Storaro, and Haskell Wexler, among others. These acknowledged greats discuss the details behind the making of their own films, in extended reminiscences providing an illuminating glimpse at their technique and methods. They also speak about the films and cinematographers that most influenced them, allowing the film to present a sense of historical perspective. These conversations, worthwhile as they are, are merely a frame for the documentary's true subject, which can be found in the film clips themselves, which are presented in pristine condition, showing their beauty and richness to full advantage.
News & Interviews for Visions of Light: The Art of Cinematography
Critic Reviews for Visions of Light: The Art of Cinematography
Audience Reviews for Visions of Light: The Art of Cinematography
Representing hollywood films the way they were truly made behind the camera, "Visions of Light" is a perfect documentary, showcasing many classic films of the past and how they were shot and lit in every way and the struggles it took to get to that perfect look. Filmmakers across the globe were interviewed giving their voices so that people can understand exactly what goes into the planning process for such a big production. It is a pretty fascinating film to watch, even though some endings for films are spoiled throughout, so proceed through the film with caution. I loved every second of this film and it held my attention all the way through.
A good collection of perspectives on the art of cinema that drags on occasion and is not ultimately memorable.
John Ballantine
Super Reviewer
½
A documentary for true cinephiles that shows that, despite what the 'auteurs' would have us believe, the input of the cinematographer should never be underestimated. A great documentary that concentrates on the real unsung heroes of pure cinema - giving them (and their imagery) the reverence they so richly deserve (cast your eye over any Flixter profile and the list of favourite film-makers are always directors). It also happens to be everything a documentary should be - Informative, very entertaining and, above all, enlightening (no pun intended!)
William Sleet
Super Reviewer
Visions of Light: The Art of Cinematography Quotes
There are no approved quotes yet for this movie.