Viral
(2016)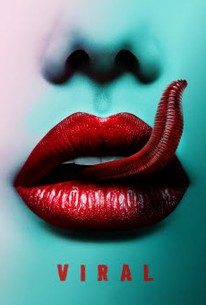 Movie Info
Teenaged sisters Emma (Sofia Black-D'Elia) and Stacey (Analeigh Tipton) live a normal life, until their small suburban neighborhood is stricken with a mysterious parasitic virus. As the disease rapidly spreads throughout the town, the two band together to barricade themselves from infection. But it may already be too late - when the virus enters their home, the sisters are faced with an impossible choice: protect each other, or survive the virus. The film stars Sofia Black-D'Elia (Project Almanac, "The Messengers"), Analeigh Tipton (Crazy, Stupid, Love, Lucy), Travis Tope (Independence Day: Resurgence), and Michael Kelly ("House of Cards," Now You See Me, The Adjustment Bureau). Viral is an IM Global and Blumhouse International/Busted Shark Production, with producers Jason Blum, Sherryl Clark, and Matt Kaplan, is directed by the dynamic duo Henry Joost (Nerve, Paranormal Activity 3 & 4) and Ariel Schulman (Nerve, Paranormal Activity 3 & 4), and was written by Barbara Marshall and Christopher Landon.
Audience Reviews for Viral
½
Ah, another movie in which some sort of virus. that causes those infected to become aggressive against other humans, spreads and infects the entirety of the United States. This is one in a long line of films like this and this, realistically speaking, while a solidly made movie, won't really stand out in any way, shape or form. There's absolutely no original bone in its body, with, maybe, the minor exception that those who are infected don't actually kill humans (even though they do in some scenes), they just wish to infect as many people as possible to spread the virus. This is accomplished by spitting blood out at them. That might be the only thing this film has going for them and, even then, it's not like there hasn't been some variation of this idea before. And, of course, much like every other movie dealing with some sort of infection that turns people into zombie-esque creatures, they refuse to even mention the word zombie. It's almost as if the word zombie is some sort of offensive term, as if zombies were actually real people and not creations. But that's neither here nor there and this movie can get away with not having a name for the 'creatures' since the virus has only just began spreading in this suburban neighborhood. In the chaos of everything, it's only logical that you won't take the time out of your day trying to not get infected to find out the term for these things. The suburban setting of this movie reminds me very much of What We Become, with being forced to remain in their homes by the military, naturally speaking. I like how the film starts out, it has somewhat of an old-school 80s horror movie feel. Just how it progresses, it's all very nicely done. But, if I can be honest for a minute, I just never got into this film at all. I get the narrative approach that was taken. The film focuses on two sisters, whose relationship has somewhat deteriorated after their mom separated from their dad. The reasons for why the mom did this plays a big part in how the relationship between Emma and Stacey develops. Stacey seems very resentful of her father and it's implied that she knows something that Emma doesn't. The film isn't really about the virus, it's more about Emma and Stacey's relationship and Emma's dedication to her sister once she contracts the virus. That's all well and good, but I just couldn't get into it for some reason. I don't mind the smaller approach to the story, in that it doesn't focus on the nationwide pandemic, since it allows them to tell a more personal story. But I just couldn't get into it. I just felt that nothing really happened. Stacey got infected with the virus, Emma stood by her as it happened, sisterhood overcomes everything, etc, etc. All good sentiments, for sure, but as I said, I just never got that into it. I just think that the movie tries too hard to establish an emotional connection between Emma and Stacey that just wasn't there. The film is a little forceful on this front. I don't blame Analeigh Tipton or Sofia Black-D'elia (Stacey and Emma respectively), who are both very good here, I just think there's something about the scripting that left a lot to be desired as it relates to Stacey and Emma's relationship and everything else for that matter. The film has a decent enough concept in order to make a perfectly solid movie and it just wasn't. I do believe that the script was way too content with itself and its own story about sisterhood (which wasn't great to begin with) to really bother with anything else. And, like I said, that's a shame since there was potential for this movie. It had some good acting, a better than normal budget and a good concept. Yet all of these elements simply just do not add to make a good movie. I'm sure there's people out there who would enjoy this more than I did. There's always movies that people enjoy more than I did, even when it comes to my favorite flicks of all time. But I can't say that I would recommend this. It's well-made, but it's just missing something that would have pushed it over the edge. This is decent at best, so watch at your own risk.
Jesse Ortega
Super Reviewer
Viral Quotes
There are no approved quotes yet for this movie.