Victor Frankenstein
(2015)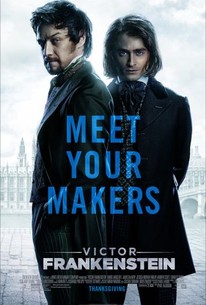 TOMATOMETER
AUDIENCE SCORE
Critic Consensus: A re-imagining without the imagining, Victor Frankenstein plays at providing a fresh perspective on an oft-told tale, but ultimately offers little of interest that viewers haven't already seen in superior Frankenstein films.
Victor Frankenstein Videos
Victor Frankenstein Photos
Movie Info
James McAvoy and Daniel Radcliffe star in a dynamic and thrilling twist on a legendary tale. Radical scientist Victor Frankenstein (McAvoy) and his equally brilliant protégé Igor Strausman (Radcliffe) share a noble vision of aiding humanity through their groundbreaking research into immortality. But Victor's experiments go too far, and his obsession has horrifying consequences. Only Igor can bring his friend back from the brink of madness and save him from his monstrous creation. (C) Fox
News & Interviews for Victor Frankenstein
Critic Reviews for Victor Frankenstein
Audience Reviews for Victor Frankenstein
Severely dull prologue to the creation of Frankenstein. The story line is so boring it makes you wonder why they invested so much money into it. The ending is a waste of time and proves this unambitious film had no real talent behind the scenes. I heard the director dissing the source material, talk about egg on face. Don't diss your film is out there and worthy, not this piece of terrible garbage. I've been going through backlog of movies and reviewing them all over again with dates but a film like this I cannot waste my time. 26-03-2018.
Brendan O'Connor
Super Reviewer
½
I can't believe it's been a week since my last review and the last film I watched, which was this. Some shit did go down, nothing serious in the slightest, hence why I didn't watch any movies this past week nor did I really feel inspired to write this review, even though I'm reviewing this a week from having watched it, so my memory might really even be that great to be honest. Maybe I'll keep it short for that very reason. Anyway, this probably isn't as bad of a movie as the trailers made it out to be. It's not like there's really anything all that great about the film, though I did like McAvoy's performance. He's not quite as unhinged or insane as Gene Wilder was in Young Frankenstein (which still remains one of my favorite comedic performances ever). Those are two completely different films covering two completely different genres. But, I digress, McAvoy does a good job here and Daniel Radcliffe is also fairly solid. Parts of this film, just stylistically, not necessarily thematically, remind me of Dracula Untold and even, slightly, Abe Lincoln: Vampire Hunter. It's just got that whole re-imagining of classic horror stories by adding, or at least attempting, to add some new twists. I think there's enough about the movie that differs from your typical Frankenstein adaptation. The movie isn't even really necessarily about Frankenstein building his 'monster' as much as it is about his tenuous friendship with his assistant, Igor, whom he saved from a life as an attraction at a circus, due to him being a hunchback. There's also the whole aspect of the film about Frankenstein's experiments being perceived, by Detective Turpin, as an affront to god and how it's morally wrong to perform such experiments. Really, the monster takes more of a backseat in this film. It's not that it's not an important part of the film or not important to Victor's reasons for wanting to succeed, it's just that the other stuff takes precedence over the monster itself. It's not what I would call a completely tonally consistent film, but it is what it is. Maybe the week off has me being nicer to this film, but this was perfectly decent little genre movie. It might not hit all its marks, but it's watchable by my standards. The third act is, unsurprisingly, a little goofy, given the fact that you finally get to see Frankenstein's monster. Again, like most of the film, it's not bad or anything, it's just a little sillier than the rest of the film, so it feels somewhat out of place. The special effects aren't great, there's this one scene with the reanimated chimp, where the chimp, who goes on a rampage, looks terrible. It just does. The rest is fairly minimal. I'm sure a some of it was used on the actual monster itself, but it also looks like a lot of practical make-up was also good. The make-up that is there, however, doesn't look great either. It's just a little too Play-doh to me. That's about it really. This does have a lot of flaws, particularly tonally, you're not really sure what it wants to be or what subplot is really meant to be the main arc, as it were, but it's a decent genre movie. If it ever comes on Netflix, then I'd say give it a shot. It's not awful, but I've seen a lot of worse. Like Dracula Untold. Fuck that movie.
Jesse Ortega
Super Reviewer
Monstrously stupid. Despite high production values, very nice costumes and a genuinely good performance by Radcliffe, this creature never should have been brought to life.
Christian C
Super Reviewer
Victor Frankenstein Quotes
There are no approved quotes yet for this movie.