Varsity Blues
(1999)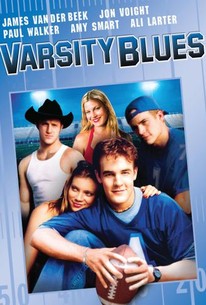 Movie Info
In his 35th year as head coach, Bud Kilmer is trying to lead his West Canaan Coyotes to their 23rd division title. Uncompromising and omnipotent, Kilmer is deified in the small Texas town, as long as the team is winning. But when star quarterback Lance Harbor suffers a season-ending injury, the Coyotes are forced to regroup under the questionable leadership of second-string quarterback Jonathan Moxon. His irreverent attitude and approach to football come into direct conflict with the coach's inflexible game plan.
News & Interviews for Varsity Blues
Critic Reviews for Varsity Blues
Audience Reviews for Varsity Blues
½
A parody of a parody, "Varsity Blues" is recklessly crass, uneven in its portrayal of high school football, and overall a sexist, annoying cultural iconoclast. Every inch of this film would later be satirized in "Not Another Teen Movie" for good reason: the side characters are idiotic stereotypes, there's constant sexism and objectification of every single female character, it tries to blend humor and drama but is unsuccessful, and the ending is corny and over-the-top. Mox (Van Der Beek) is the only character who isn't a complete asshole, but he still objectifies his teacher, doesn't say much when his teammates are being offensively abused by their negligent coach, and he and his girlfriend never have a conversation longer than a couple of minutes. If you want to watch a film that handles the drama and socio-economic issues of high school football's reach in small town America, watch "Friday Night Lights." If you want to watch idiotic pandering to your lowest base desires, watch some soft-core porn. Otherwise there's really no reason for you to watch a film that has been done, and done better, a million times.
Spencer S.
Super Reviewer
½
It may take a while to win you over, due to it's odd tonal shifts and it may be a little predictable, but every sports film has their predictability aspect to them, and I believe that "Varsity Blues" takes advantage of that in the right way. After the quarterback (Paul Walker) is injured, the second string must take over for the rest of the season to lead the team to victory. Sure it's an old tale in the world of sports, but when you have a likeable cast of characters, a fun script, and a soundtrack that will make you smile, there is not too much to complain about. What the film does lack is originality and the cheesy score did not help either, but hey that's the 90's for you. Make of this film what you will, because it will be deemed fun for some and bad for others. On my end of the spectrum, I had a blast watching it, there are some odd filmmaking techniques used, but it all comes down to the overall experience. "Varsity Blues" is a solid football film.
Imagine every football movie, throw in every cliché to the max, and you have this film, about a small Texas town obsessed with high school football and how the backup quarterback (James van der Beek) rises to fame after the starting quarterback (Paul Walker) goes down with an injury in large part to his egotistical coach's (Jon Voight) poor decision making. The characters are caricatures, not really well developed and overacted to the extreme, especially by Voight in a scene-chewing, though admittedly enjoyable, performance. Half of the actors look ten years out of high school but they are still playing high school students. You can pretty much call every scene in the movie from beginning to end, but for some odd reason, you still end up liking the ride for the most part. It's fluff entertainment that does not have any interest in being anything more than that, but as long as you are okay with that, it's an alright film.
Dan Schultz
Super Reviewer
Varsity Blues Quotes
There are no approved quotes yet for this movie.