Vampire Wars: Battle for the Universe
(2005)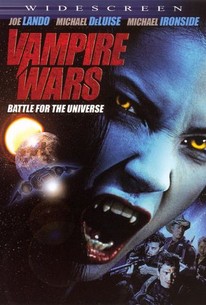 AUDIENCE SCORE
Critic Consensus: No consensus yet.
Movie Info
The low-budget, direct-to-video sci-fi/horror fest Vampire Wars: Battle for the Universe opens in the year 2210. After draining the life from millions of human bodies, bloodsuckers not only worm their way across the face of the earth but sit poised on the edge of conquering the universe. To squash the problem for all time, intergalactic rulers order the assembly of V-SAN crews, or anti-vampire sanitation teams, to cruise the galaxy and stamp out the undead. The rough riders on the Hieronymus Unit - men and women prized for their brutality and their bull-by-the-horns, take no prisoners mindset - have among them Quintana (Natassia Malthe), a half-human, half-vampiress endowed with psychic powers that enable to foresee her prey; Captain Nicholas Churchill (Joe Lando), and second-in-command Damian Underwood (Dominic Zamprogna) - who, together, have enough force to meet the vampires on a level playing field. But they unknowingly careen head-first toward a nasty trap led by the vampire captain, Muco (Michael Ironside), which risks extinguishing the Hieronymus crew for eternity and giving the vamps limitless power.
Critic Reviews for Vampire Wars: Battle for the Universe
All Critics (2) | Fresh (0) | Rotten (2)
What begins as a big pile of dumb fun winds up a weary mess.
Chock full of bad acting, ridiculously pulpy dialogue, and tons of sloppily satisfying gore, Vampire Wars is by all conceivable measures a pretty awful movie. But that doesn't mean I didn't have some fun with it!
Audience Reviews for Vampire Wars: Battle for the Universe
There we go another poor made Vampire Movie and there was a Godzilla look a like creature too. lol
Vampire Wars: Battle for the Universe Quotes
There are no approved quotes yet for this movie.