Vamp U
(2013)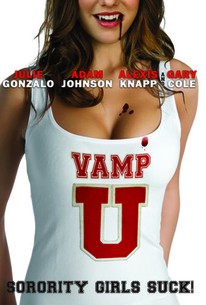 AUDIENCE SCORE
Critic Consensus: No consensus yet.
Movie Info
Wayne Gretzky (Adam Johnson) is a vampire with teeth that won't grow. His "impotence" began when he inadvertently killed Mary, the love of his live, 300 years ago. To take his mind off the pain, he teaches college history - who better than a guy who's been around for centuries? Attempting to regain his full vampire powers, he enlists help from his friend and colleague, Dr. Levine (Gary Cole). Nothing works...that is until a new semester brings freshman Chris Keller (Julie Gonzalo) - a dead ringer for his beloved Mary. They begin to have an affair, which quickly goes south when he accidentally turns Chris into a vampire and she becomes hell-bent on sucking every frat boy on campus dry! Now, as she leaves a bloody trail of destruction across campus - converting a sorority house full of co-eds including the irresistible Samantha (Alexis Knapp) to her vampire legion - Wayne is faced with the task of stopping her before she kills half the student body! (c) Level 33
Critic Reviews for Vamp U
All Critics (2) | Fresh (1) | Rotten (1)
Retains a modicum of spunk and a few smiles as it goes about its business of slapstick and bloodsuckery. Dial expectations way down, and perhaps writer/directors Matt Jespersen and Maclain Nelson will be able to entertain you.
Vamp U is a surefire horror comedy treat, and one I had a good time with.
Audience Reviews for Vamp U
½
I noticed this movie few months earlier trying to raise money on kickstarter.com for additional funding to finish post-production sound and music... and even that unfinished version won the BEST HORROR FILM from the Hollywood Reel Independent Film Festival and Best Actress, Julie Gonzalo and Best Actor, Adam Johnson from the Los Angeles Comedy Festival! The $15,000 goal was reached with 149 backers (actually it reached $15,102)... and I decided to check it out. The story of Wayne Gretzky (Adam Johnson) is not about the famous hockey player but about a vampire with an issue! His teeth won't grow, and his psychiatrist friend Dr. Levine (Gary Cole) is trying to help him. Wayne teaches history, and he is pretty good in it, because most of the time he witnessed the events he was teaching about. The new semester brings freshman Chris Keller (Julie Gonzalo) who looks alike his old love Mary. Things get complicated when they begin to have an affair... which ends when Wayne turns Chris into a vampire. I was surprised how clever and witty this comedy was... I did not expect that at all. Previously titled Dr. Limptooth, Vamp U is, with the help of a very talented cast, funny and entertaining movie with smartly combined comedy and horror script by the director Matt Jesperson and writer Maclain Nelson.
So after choosing to take a break from viewing anything in the action genre I chose something by complete random. Now apparently I'm reviewing an indie movie that is meant to be release in March so I guess I should consider myself somewhat lucky to view it early. Not the case here as so far every movie I view earlier than the intended release date I have come to hate. Vamp U is about vampire Wayne Gretzky accidentally killing his soul mate and turning his soul mate daughter into a vampire which means Wayne, his friends, and the mother have to kill. That's the setup which would have been fine except this is a unfunny comedy! My biggest problem with is the writing and what atrocious writing it is. The first twenty-five seconds of the movie lowered my expectations immediately. That's quite an accomplishment to make your audience not care that fast. The first-five seconds goes something like "She sells sea shells down by the sea shores. Toy boat. Toy boat. Toy boat. Toy boat. Unique New York. Unique New York. My crouch fell". This is possibly the worst first impression anyone can get when viewing a movie. Just imagined trying to sit an entire movie where that is one of the better moments. There's also buildup to final rumble against the vampires in a house, but that's incredibly disappointing. Lets get the obvious problems out of the way. The characters are unlikable, the supporting characters are jerks, there's no logic of any kind, pop culture reference from stuff like Sears are made, stupid comedic lines, and the worst offense being mind numbing stupidity. Now this is a "comedy" but I'll would lying to you it if I called it that. In comedies it's good to take moments from telling joke and build some actual drama but not here. Every single moment is meant to be funny. I don't know about you, but I don't see what's funny in asking a woman "Can I kill your daughter". There's plenty of inappropriate material like this throughout. A girl killed 29 people and that's made into a joke. Having sex with a teacher is turned into a joke. You being told that you have to kill the girl you love because she is became evil is turned into a joke. Even when the mother morning her daughter death the film feels the need to tell a joke. Not even the death speech is meant to be taken serious when you hear "I was still going you kill you, but I made you a mix tape. Mom, your not a b***h". When the film is not trying to be inappropriate we get sex jokes upon sex jokes upon sex jokes. It's tedious not getting different variety of jokes and becomes repetitively painful when unfunny running gags keep appearing. The romance aspect is awful. The romance in Vamp U makes Twilight look like Romeo and Juliet. Also according to this movie women who become vampire are suddenly Gothics. I would question that, but this is the same movie where teacher still has his job despite having sex with one of his student so there's no use to introducing to complex as logic. Now using women looks to keep your audience attention does not work. Unless they have some defining characteristic like intelligence, being funny, or even a personality appearances won't cover the poor writing, poor comedic timing, and no resolution to the story of any kind. If there's anything positive are the actors are okay and unlike the abomination that was "Noobz" it does not offense anyone. Just your brain cells. Vamp U takes everything you could possibly hate from a comedy and mixes it with vampires to poor results. Vamp U is a giant f you to the audience expecting anything remotely watchable.
Caesar Mendez
Super Reviewer
Vamp U Quotes
There are no approved quotes yet for this movie.