Vacancy
(2007)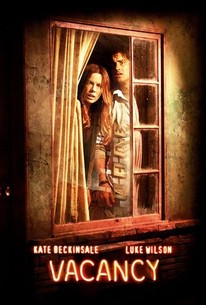 Movie Info
When David and Amy Fox's car breaks down in the middle of nowhere, they are froced to stay at the only motel around, with only the TV to entertain them... until they discover that the low-budget slasher movies they're watching were all filmed in the very room they're sitting in. With hidden cameras now aimed at them, trapping them in rooms, crawlspaces, underground tunnels, and filming their every move, David and Amy must struggle to get out alive before whomever is watching them can finish their latest masterpiece.
News & Interviews for Vacancy
Critic Reviews for Vacancy
Audience Reviews for Vacancy
½
It's commendable that Vacancy attempts to leave the audience in total suspense while keeping the gore at a bare minimum. Not to mention the opening credits were pretty darn cool. But the film tries way too hard to get the characters into the creepy motel; so much of the opening thirty minutes screams contrived. David and Amy Fox (played by Luke Wilson and Kate Beckinsale respectively) can't stand the sight of each other any more, not since their son died. This tragic act has caused David and Amy to act like total assholes to each other, never passing on the opportunity to make a passive aggressive mark. It's hard to really connect with these two. Once they enter the room and realize they're actually in a room where assailants will soon come and torture them to death, they attempt an escape. What ensues are mostly uninspired chase scenes that occasionally succeed in executing a good scare or two, but for the most part feel cliched and reminiscent of too many other movies. It feels long and drawn out even though its 85 minute running time is barely feature length. While the references to Hitchcock are aplenty, Vacancy is nowhere near the same league. You'll forget having seen it as soon as it's over.
Edward Boxler
Super Reviewer
OK what's the point of this??? lol! its so stupid and hardly scary a tall. For a start it has Luke Wilson and Kate Beckinsale in it...now forgive me but Wilson is a comedy actor right? Beckinsale is an English rose with a vamp streak but hardly 'Hostel' style horror victim. Neither of them fit the part of this film in the slightest, it just doesn't work, simple. The main baddie is laughable, not in the least bit scary, more 'Basil Fawlty' really lol! and his drones aren't explained either, why do they kill people? how they got into it, where they come from etc...they just turn up looking like 'Mike Myers'. There is no logic to the film, how could a motel survive when they kill their guests? where do they put the bodies? surely its abit suspicious? where do they put the dead guest's cars? the smell? and on top of that there are numerous occasions when Wilson and Becks could escape easily or take down some of the nutters, but all the time your just waiting for Wilson to say something silly and funny. The bottom line is the film just ain't scary, tense, creepy or gory in anyway and that includes the somewhat lame snuff movie clips you see, the whole film sinks with no survivors.
Phil Hubbs
Super Reviewer
½
It has a genius premise and a good director, you mix that in with the Hitchcock style of suspense and bloodshed restraint and what you get is Vacancy. The execution wasn't fantastic because it was very predictable and I thought the ending was deeply flawed but it's not a bad film. It may be more than a bit silly but it made me jump and it creeped me out and these were the films intentions.
Directors Cat
Super Reviewer
Vacancy Quotes
There are no approved quotes yet for this movie.