Urban Cowboy
(1980)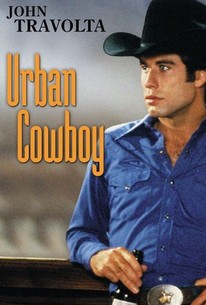 Movie Info
"You a real cowboy?" John Travolta traded disco for a mechanical bull in this adaptation by James Bridges and Aaron Latham of Latham's article on Western nightlife. Texas country boy Bud (Travolta) moves to Houston to work on an oil rig with his Uncle Bob (Barry Corbin), and he swiftly becomes indoctrinated in the nighttime rituals of drinking, dancing, and showing off cowboy duds at Gilley's, the enormous local honkytonk. There he meets and marries the sassy Sissy (Debra Winger), but the honeymoon quickly ends when Sissy starts spending too much time learning the men-only skill of mechanical bull-riding from ex-con Wes (Scott Glenn); Bud throws her out and hooks up with slumming Pam (Madolyn Smith). Under the paternal tutelage of Uncle Bob, Bud then learns not only how to master the bull but also what it takes to be a real man rather than just an ersatz cowboy. With a story, cast, and setting that were essentially Saturday Night Fever country-style, Urban Cowboy was poised to be a summer 1980 hit. Although its box office did not live up to Fever's legacy, Urban Cowboy did spawn a soundtrack album of country-and-western hits and helped spur a Western fashion vogue; people from all regions began sporting cowboy boots, and mechanical bulls started replacing passé disco floors. The first of Travolta's many comebacks, Urban Cowboy provided the star with a more "manly" image after his Moment by Moment (1978) fiasco, but it was neophyte co-star Winger who got even better notices. With its Western milieu and retro view of relationships, Urban Cowboy stands as a sign of the nascent Reagan era, as '70s icon Travolta learned bull-riding himself and replaced his white polyester with a black Stetson. ~ Lucia Bozzola, Rovi
Critic Reviews for Urban Cowboy
Audience Reviews for Urban Cowboy
½
A pleasant surprise. I'd read that this was one of the most popular movies from my birth year, so I watched it and immediately said it was one of the best movies I'd ever seen.
Jason Owens
Super Reviewer
½
Another box office hit that has not withstood the ravages of time. What was once hip now seems dated and cliche'.
Randy Tippy
Super Reviewer
Very good John Travolta movie. I LOVED IT!!!
Cassie Hill
Super Reviewer
Urban Cowboy Quotes
There are no approved quotes yet for this movie.