The Unnamable
(1988)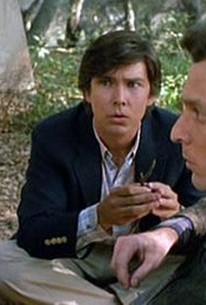 AUDIENCE SCORE
Critic Consensus: No consensus yet.
Movie Info
College students from Miskatonic University who retreat to an early 18th-century mansion for a weekend of lust are stalked by a fatalistic female in this horror film taken from a story by H.P. Lovecraft. The demon delights in tearing the limbs off her human victims to carry out a centuries-old family curse. Bloody graphic violence and nudity is combined with some campy comedy.
Critic Reviews for The Unnamable
There are no critic reviews yet for The Unnamable. Keep checking Rotten Tomatoes for updates!
Audience Reviews for The Unnamable
[Zero Stars] H.P. Lovecraft would twirl in his grave if he viewed the intolerably execrable 'The Unnamable'. This is obviously a Full Moon-like low-budget affair and the architectural design and lighting scheme are terribly chintzy (green, blue and hearth-effect gels are inexplicably strewn throughout the set). The characters are foolhardy ignoramuses who unlock suspicious doors and split off in separate directions. A soft-core sex scene is shoehorned in for prurient tastes. All of the college students are played by 40-year-old actors. The histrionics are atrocious but the main barnacle is Carter (Mark Kinsey Stephenson) since he is so misogynistic ("Just like a woman to faint") and self-absorbed that he is engrossed in reading ancient tomes while his friends are being slaughtered on the other floors. There could be a drinking game for how often the characters recite each others' names. The finale is sophomoric insofar as tree branches are rustled in front of the camera as they wrest the succubus out the window. The score is an incessant, bargain-basement mixing of a Casio keyboard with a flute. Other than the centaur UGG boots, the creature design is a grade above meritorious. Overall, the stillborn 'Unnamable' is one of the worst genre offerings I've had the displeasure of seeing this season.
Cory Taylor
Super Reviewer
A descent horror flick. The Unnamable was...fake..and stupid. Although it was kind of funny, and somewhat enjoyable towards the end. Very slow-paced, though.
Jacob Palacio
Super Reviewer
½
Essentially this film is an average slasher-style horror dressed up in cosmic-horror clothing. The creature is done very well, but my own personal highlight is the over-dramatic Carter, whose behaviour and lines are perhaps the most Lovecraftian things in the whole film.
The Unnamable Quotes
There are no approved quotes yet for this movie.