Universal Soldier
(1992)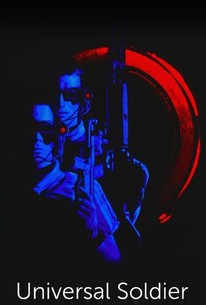 TOMATOMETER
AUDIENCE SCORE
Critic Consensus: Universal Soldier unites a pair of veteran action stars behind a potentially intriguing premise, but on this battlefield, entertainment value is largely AWOL.
Movie Info
Two rival soldiers are transformed into powerful killer cyborgs as part of a secret government experiment in this sci-fi action drama. Despite the erasure of their memories, the cyborgs soon recall their old human hatred and begin one last battle for supremacy.
Critic Reviews for Universal Soldier
Audience Reviews for Universal Soldier
Universal Soldier is among Roland Emmerich better works as a director. The film is a fun and entertaining popcorn flick that no one should take seriously. The plot is pretty good, and though not too great is a pretty cool idea in terms of Si Fi action. Acting wise, there are some so-so performances from the cast, but Lundgren and Van Damme are pretty good considering their lack of talent. They're perfect for the roles they play as it doesn't really require any great acting. This one should appeal to fans of mindless action films, and if you're looking for sheer entertainment value, Universal Soldier will surely give you what you're looking for in terms of effective thrills and interesting concept. Emmerich is not a good directing, but at times, he can create something watchable, and along Independence Day, The Patriot and Day After Tomorrow, Universal Soldier is one of his most entertaining films. Don't expect anything great with this one, as it is very flawed, but manages to overcome its weaknesses by delivering good action sequences that are designed to thrill and entertain the viewer looking for memorable thrills. This film has been compared to The Terminator, and I can see why, in some respects. Nonetheless, the film works well enough to separate itself from The Terminator by exploring new territory. If you enjoy mindless action flicks, then definitely give this one a shot. The film lacks any great performances, but it doesn't try to be an accomplished film in terms of acting, or truly remarkable story. This is a popcorn action flick, pure and simple and it doesn't try to be anything more than that. A definite must see for action fans looking for very good action and thrills.
½
The first and easily the best of the entire franchise methinks. This Emmerich film is clearly a better and well funded film than all the rest. Its glossy all over from the camera angles, costumes, explosions and editing to the superb finale fight. Totally over the top violence and with a very over used robot/cyborg plot line (can't really help but mention 'The Terminator' here, sorry). But this is still a good solid action flick, possibly Lundgren's best as well. The final showdown between Van Damme and Lundgren is seriously epic, very tense and Lundgren being pretty darn intimidating in his 'pyscho zone'. The way he is so unstable makes for a very nerve racking character to watch. Some of the sequences where he questions people or attacks them is actually pretty violent. The guy is like a rabid dog as he tears people apart, knives them or just guns them down...'are we having fun yet!?'. Lundgren really pulls out all the stops with this badass bad guy, highly impressive. Visuals are good all the way through and like I said all the action is first rate with some great fights. JCVD in the bluecollar diner is nice, also the initial sequence with all the UniSols at the start is cool. Well some are your typical JCVD fights and setups basically but we know and love em right. Walker is cute, Lundgren is fudging evil and its all very predictable of course, like so many other similar action fests. Its a much darker affair than most of JCVD's work if you ask me, very gritty and dirty with some real adrenaline flowing through the finale. You really feel the heat and sweat at the end, and if you're not cheering for 'Devereaux' to kick 'Scott's' ass then there's something wrong with you. Cheesy as hell (check some of the dialog) but holy shit this is a riot. High bodycount assured.
Phil Hubbs
Super Reviewer
Not critically very good however the story was interesting and it was just something easy and fun to watch. Van Damme and Lundgren were good in the roles (although not great) but it's just a good watch if you want something easy.
Sophie Burgess
Super Reviewer
Universal Soldier Quotes
There are no approved quotes yet for this movie.