Unicorn City
(2012)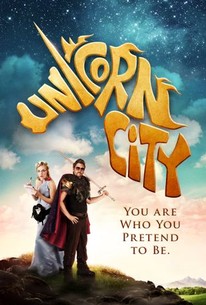 AUDIENCE SCORE
Critic Consensus: No consensus yet.
Movie Info
Game developer, Warlocks of the Beach, has offered Voss, an unemployed table-top gamer, the chance at a management position if he can demonstrate real leadership abilities. Given one week to prove himself, Voss convinces Marsha, a long-time gamer friend, to help him entice the guild into his scheme to get a job, and he creates Unicorn City. However, Shadow Hawk, Voss' nemesis, shows up, and knowing exactly what buttons to push, challenges Voss to a battle of wits. In one fair swoop Voss damages his friendship with Marsha, loses his honor, and is kicked out of the utopia he created. Voss leaves a failure but recognizes his deceit and knows that he must return to rescue Marsha and reclaim his role as a Bardladin Knight, master of Unicorn City. -- (C) Official Site
Critic Reviews for Unicorn City
All Critics (1) | Fresh (1) | Rotten (0)
This low budget, Utah produced fantasy gamer comedy should be a colossal failure but good writing, an able cast, and a Napolean Dynamite spirit make for surprising, if odd, fun.
Audience Reviews for Unicorn City
½
A movie made for geeks by geeks. One that doesn't choose to make the characters a point of mockery, which you can often get in movies dealing with these types of characters. It's incredibly obvious that this film had a minuscule budget but, you know what, it doesn't get in the way of this movie being so massively entertaining thanks to its cast and its clever writing that it really does overcome the fact that it's not the nicest looking movie in the world. The movie is really energetic and fun because it was very clear that the cast had a lot of fun acting silly and doing silly things and it really comes across on-screen. I've always felt that if the cast had fun making the movie then that does really add a lot to the final rating you'd give a movie, even if the script has a formulaic outline and inconsistent laughs. The script itself does have some very funny lines but, as mentioned, there comes a time about the 1 hour mark where things slow down a bit where the laughs aren't as consistent. But the movie follows that with some of the best laughs in the entire movie. For example the cops rounding the 'geeks' up as if they were cattle was absolutely hilarious. And the ending was pretty awesome as well, it's a shame that they cut away from what would've been an epic battle, but the movie does end at a high point. I suppose if there was a "problem" with the film focusing on these characters is that the movie would only appeal to a particular niche. I've never played Dungeons and Dragons, the original board game, so I literally have no idea how the dice rolling thing works. D&D has inspired the rules of modern video game RPGs so I do know that. Anyway the point is while I haven't played D&D-type board games, I'm still closer to this film's intended audience than most and I do think that all the talk of hit points, healing points, critical damage, spells giving you resistance to fire damage, etc will probably be seen as too "geeky" by someone not at all familiar with this type of game. And I don't really fault the movie for that, it really is some people's close-mindedness to other forms of entertainment. But I think if people can get over that, that this film offers an absolutely fun experience. And that's the thing you take away from this film the most, just the fact that the cast had so much fun that it was infectious and it overcame any weaknesses, like the cinematography, the formulaic plot outline and the inconsistent laughs. I could see myself watching this movie more than once and still enjoying it tremendously.
Jesse Ortega
Super Reviewer
Unicorn City Quotes
There are no approved quotes yet for this movie.