Unforgettable
(1996)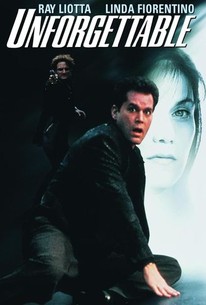 Movie Info
This cross between a psychological thriller and an old fashioned murder mystery tells the story of a police pathologist who takes extreme measures to prove himself innocent of his wife's murder and to solve the puzzling massacre in a Seattle drug store. Dr. David Krane was formally charged with his wife murder, but tainted evidence got him an acquittal; it did not clear his name and as a result he lost his two daughters. His search for her killer begins when he is called to the drugstore scene where he finds a curled up matchbook, the exact same kind that was found near his wife. Soon afterward he learns of noted neurologist Dr. Martha Briggs experimentation with a new form of memory retrieval. She has discovered that memory resides in brain fluid and that if the fluid from one brain is mixed with a special formula and injected into the brain of another, that person will experience the memories of the other when a strong stimulus is administered. At least that is the theory. So far she has only worked with lab rats. But for the fact that the majority of the injected rodents die of heart failure, her experiments have been successful. Learning more about Briggs' work, Krane becomes determined to test it on himself using the stored brain fluid of his late wife. It works and soon he sees clearly the face of the killer. Feeling encouraged, he does the same with a drug store victim's fluid. The victim was an art student and Krane finds himself able to render a perfect sketch of the killer's face. When Briggs learns what Krane has done she carefully monitors his every move, especially after he injects some of the killer's brain fluid. Things get really dicey for Krane then, because certain stimuli evoke the different memories from each of the injections.
Critic Reviews for Unforgettable
Audience Reviews for Unforgettable
½
Really bad. I get where this film was going, and I appreciate the psychological aspect, but it just ends up being clumsy and stupid. Not worth seeing.
Stephen Skudlarek
Super Reviewer
incorrectly named so called thriller, the blame lies in the script not the leads.
Good chilling, crackpot thriller involves several transfers of brain fluid between dead and living people but no credible smarts of its own.
Dean McKenna
Super Reviewer
Unforgettable Quotes
There are no approved quotes yet for this movie.