Undiscovered
(2005)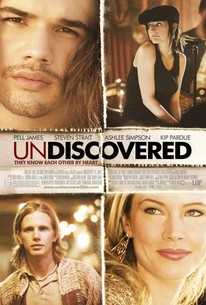 Movie Info
Two talented young people head to California looking for fame, but find love along the way in this romantic drama. Luke (Steven Strait) is a struggling rock musician who has decided to leave New York City for the seemingly greener pastures of Los Angeles. A few days before he leaves, he spots a beautiful girl on the subway who gives him a big smile, giving him brief second thoughts. However, Luke heads out to L.A. anyway, and after months of scuffling lands a gig -- and sees the beautiful girl, Brier (Pell James), in the audience. Brier is an aspiring actress who, like Luke, came to L.A. to boost her career; she's taking acting classes at a well-respected workshop, and has landed a less-than-glamorous but lucrative deodorant commercial. Luke and Brier strike up a friendship, though it's obvious he's interested in something deeper; as Luke tries to score a record deal, Brier and her best friend Clea (Ashlee Simpson) try to spruce up his image and create some buzz about his music. But as Luke falls hard for Brier, she develops greater qualms about getting involved with a musician who will spend half his life on the road, and their shared desire for that big break may be the thing that keeps them apart. Undiscovered also stars Carrie Fisher, Kip Pardue, and Fisher Stevens.
News & Interviews for Undiscovered
Critic Reviews for Undiscovered
Audience Reviews for Undiscovered
½
I liked the songs and I especially liked the scene with the bulldog skateboarding, hehe. This was an ok movie about 2 aspiring artist trying to make it in the entertainment industry.
Naughtia Nahazhina
Super Reviewer
½
Tacky and criminally uninspired, Undiscovered tries to sing about authenticity and the will to ''keep on keepin' on'', but reveals itself to be completely manufactured. Every plot device can be seen coming from a mile away, and the dialogue's 'spiky' touches feels dreadfully superficial, particularly when it's spat out by model-looking actors that give their strict minimum at the service of stereotypical roles. If you think real life is like this, well, lap it up, but if you like your films with something called a personality, avoid this at all costs. But Ashlee Simpson, while I would never call her an 'actress', is not bad. Seriously.
Laurence Collin
Super Reviewer
Yinalí Ríos
Super Reviewer
Undiscovered Quotes
There are no approved quotes yet for this movie.