Underworld: Awakening
(2012)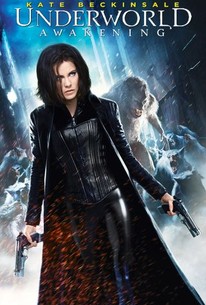 TOMATOMETER
AUDIENCE SCORE
Critic Consensus: There's more vapid action and less story in Underworld Awakening than previous installments, making the whole affair feel inconsequential.
Underworld: Awakening Videos
Underworld: Awakening Photos
Movie Info
Kate Beckinsale, star of the first two films, returns in her lead role as the vampire warrioress Selene, who escapes imprisonment to find herself in a world where humans have discovered the existence of both Vampire and Lycan clans, and are conducting an all-out war to eradicate both immortal species. -- (C) Official Site
News & Interviews for Underworld: Awakening
Critic Reviews for Underworld: Awakening
Audience Reviews for Underworld: Awakening
Following on from 'Evolution' we see both the lycan and vampire species under threat from humans after being hunted down to the brink of extinction. You know what to expect here and boy do you get it in spades, slow motion high flying kills, double gun totting shooting, swishing blades, spurting blood and endless dumbass man fodder to thicken the brew. In short its exactly like the newer 'Resident Evil' films and you half expect Jovovich to pop up and take over. The super lycan serum which results in an uber lycan is pretty much the pinnacle of crapola in this franchise now, a total 'Resi Evil' idea type rip-off and it lowers the overall class of the whole series. The plot isn't tooo bad, they manage to carry it on quite well and do a good job with keeping Corvin around despite Speedman not being involved, but the rest of the cast is pretty awful really. Charles Dance seems to be there only to provide a new Viktor type character and he clearly has difficulty speaking with his fangs in, he even tries some of Nighy's head movements. The rest of the supporting cast all come across as B-movie fare frankly, even previous vampire actor Rea can't help the cause. The whole film feels very basic really. Some terrible CGI effects (worse than the previous films), bad greenscreen scenes, the lycans look like shaven rats, transformations are pretty dreadful looking, the 'vision' perspective looks crap and the young Eve looks like something outta 'Mortal Kombat'. Everything basically looks plastic and fake. End of the day it does what it says on the tin and we all know what this film is about so I can't moan too much, but I just get the feeling they should of left it alone. They really have gone way way over the top with all the slow motion action sequences. The fact that Selene can kill endless lycans yet no one else can, just destroys your suspension of disbelief...even in this universe. Yes its an over the top fantasy flick but there is still a limit for any Mary Sue type characters, or there should be. The thing is I can see this franchise really being completely milked into the depths of the 'straight to DVD' abyss. A shame as it is/was a half decent concept with some solid ideas and reasonable early entries. Alas this kind of W.S. Anderson-esque film making is becoming infuriating in a highly tacky way.
Phil Hubbs
Super Reviewer
½
This fourth installment is getting excited and entertaining since the second one about the mankind discover the existence of the Vampire and Lycan species and they begin a war to annihilate the races. Selene (Kate Beckinsale) awoke after 12 years while she and her lycan-vampire hybrid Michael Corvin were caught by the government, and she was freed by Eve (India Eisley) who is revealed to be a hybrid and the daughter of Selene and Michael. But the mother-daughter relationships shown were actually good and original - no hugging, no crying, no, "I love you, sweet girl!" Selene behaves as she should - she lost her loved one, so she wouldn't be a smiling happy mother just because she now has a daughter (though of course she would protect her). I could see Beckinsale in a bunch of physics-defying action scenes while dressed in her character Selene's signature leather outfit. You get that here. The action scenes are slick and well-made, the Lycans look better than they ever have before, and the ending sequence, involving at least three distinct battles, is satisfactory, even if the ending as a whole promises much more than it delivers.
Dean McKenna
Super Reviewer
½
Good to see Kate Beckinsale back for this forth outing. Just a pity it seems they are short of ideas, and backing it seems. It doesn't have the production value of the previous films, especially the first two. The cgi for the Lycans at times isn't that impressive. Hopefully if they do anymore it will be with a bigger budget and better story line. For fans of the franchise mainly who seek another Selene outing.
Underworld: Awakening Quotes
There are no approved quotes yet for this movie.