Un Secret (A Secret)
(2008)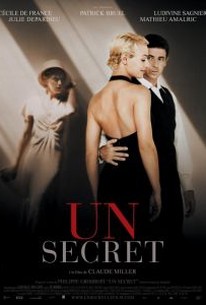 TOMATOMETER
AUDIENCE SCORE
Critic Consensus: A Secret is poignant, sad, and beautifully crafted, featuring fine performances that stave off a drift toward soap opera territory.
Un Secret (A Secret) Photos
Movie Info
Informed that his elderly father has mysteriously disappeared, anxious Parisian François (Mathieu Amalric) recalls his tragic family history in director Claude Miller's adaptation of the fact-based novel by author Philippe Grimbert. As a sickly young child, François (Valentin Vigourt) instinctively knew that he was a disappointment to his champion swimmer mother, Tania (Cécile De France), and gymnast father, Maxime (Patrick Bruel). While François does find some amount of solace in his friendship with kindly masseuse Louise (Julie Depardieu), his discovery of a strange toy in the attic causes his parents to act more strangely toward him than ever before. Feeling sympathetic toward the young boy, Louise eventually reveals to François that he once had a half brother, and that his parents weren't drawn together by fairy-tale romance but through violence and strife. Back before the war, Maxime became engaged to the beautiful Hannah (Ludivine Sagnier). While Hannah's parent's were keenly aware of the ominous implications of Hitler's rise to power, Maxime worried little since he always considered himself French first and foremost. At the wedding, however, Maxime finds his gaze frequently wandering from his fetching bride to athletic beauty Tania. Later, after the happily married bride gives birth to a handsome young boy named Simon (Orlando Nicoletti), the Nazis invade and the once-happy family is torn violently asunder.
Critic Reviews for Un Secret (A Secret)
Audience Reviews for Un Secret (A Secret)
½
Nothing extraordinary or a secret that most can't see coming, yet I liked it. Maybe because besides being based on real events, the execution too was good enough & that it's not just a Holocaust/war movie.
familiar stranger
Super Reviewer
½
A rather slow moving, nice French film about the holocaust, and its effects on an entire family. The movie is rather tedious, even as it portrays deep passions, and grief, flickering just below the surface of its characters. However, the acting is wonderful, and all else is beautifully done....so I forgive them.
Cynthia S.
Super Reviewer
Est-il juste parce qu'il est Francais? Based on a true story, Un Secret sees post-war France through the eyes of pre-teen Francois, an only child of two ridiculously good-looking parents. When he becomes curious about the inner workings of his parents' relationship, a close friend reveals secrets about the multi-layered and convulated love affair that began 15 or so years earlier, and the consequences (some fatal) that occurred because of it. The film captures the complexities of being a Jew in France from the 1930's to the present, where layers of a family's history are revealed by jumping back and forth in time. It's about a gripping mystery and an ever-timely reminder of the terrible power of repression and silence. Beautifully acted and exquisitely photographed, director Claude Miller's superb drama is awash with the ripples created by unlived lives. He brings together beautiful actors, great sceneries and thought-provoking stories but misses the mark in the alignment of all the elements. Still, the performances of all the cast are compassionate and compelling. The cinematography for the most is absolutely gorgeous. But it seems that Miller has cheapened the audience's experience, for rather than exploring the entire body of one or two stories, he merely nibbles at the ear of many. And again, what is with the bizarre epilogue?
Cinema Films
Super Reviewer
Un Secret (A Secret) Quotes
There are no approved quotes yet for this movie.