U2 3D
(2007)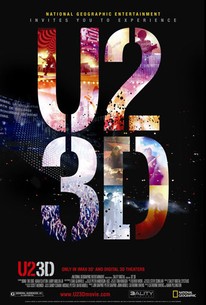 TOMATOMETER
AUDIENCE SCORE
Critic Consensus: 3D transports the viewer to an intimate seat at a U2 performance, for an exhilarating musical experience at the price of a movie ticket.
Movie Info
"U23D" is a concert film of rock band U2 as they trek from Argentina, Mexico, Chile and Brazil.
News & Interviews for U2 3D
Audience Reviews for U2 3D
I do believe this is actually the closest I have ever gotten to having a religious experience. Ever. Never mind the 3D aspect, the amazing shots that these cameras captured were unique for absolutely any concert footage I have ever seen. Amazing. Amazing! I want this on DVD so freaking bad.
Jennifer D
Super Reviewer
As has recently been proved by both the success of Coraline and the relative failure of The Jonas Brothers Concert Experience, 3D usually works best when confined to animation rather than to live performances. Thus U2-3D cannot be seen as a remarkable film. Not only it is largely preaching to the converted - and in particular the recently converted - but the 3D is only immersive in parts, and while the whole experience is not forgettable, it does not make you want to see it again. The best way to deal with this kind of concert film is to compare it to more traditional concert films, such as Jonathan Demme's Stop Making Sense, the film of Talking Heads' 1983 tour to support the album Speaking In Tongues. Stop Making Sense may not have the eye-popping proximity to the musicians that U2-3D and others provide, but you still feel an immersive part of the experience. In part, this is due to the elaborate conceptual slants taken by Talking Heads (for instance, David Byrne's enormous suit), but mostly it is because Demme's direction takes you right to the heart of the songs. The lack of audience shots or pan shots makes it feel like the band are performing just for you, which is a great feeling. This film has a very different approach. Instead of making you feel like the band are performing just for you, the large number of crowd shots (in part due to the nature of the stage) makes you feel swamped by anonymous strangers. There are some very good moments, most of them involving Larry Mullen Jr., in which the band are genuinely playing at their best, but you still feel distant in the end. The emphasis on being part of a huge audience, which is reinforced by the opening scenes of people queuing at the turnstiles, is a double-edge sword for any concert film. When done right, like in the coverage of Live 8 two years earlier, individuals can feel united for a great event despite many thousands of miles of separation. When done wrong, as here, you feel like you're being forced to submit and go with the flow, and it's not all that pleasant a feeling at times. If Stop Making Sense is like a conversation between you and the band, then U2 3D is like a religious ceremony whereby the role of the audience is to worship the band and nothing else (which considering Bono's recent antics is more than a little appropriate). For all its bad points, U2 3D has a lot of plus points, most notably being the songs themselves. Being culled from some of the greatest albums ever made, of course they're going to be good pop and rock songs, but specific performances, like 'The Fly' and Bono's solo rendition of 'Miss Sarajevo', really stand out, turning what on record are average songs into something which is almost breathtaking. One sad omission is 'City Of Blinding Lights', the best song on How To Dismantle An Atomic Bomb and whose video sets the tone for this film. Many people who are U2 fans will never get to see them perform live, and for that reason U2 3D is a worthwhile achievement. It makes a lot more sense to release such a film as opposed to a live album, for the simple reason that since the Zoo TV tour of the 1990s, U2 have steadily become a more visual band. It's a shame that the film itself is unremarkable, but the songs are just enough not to leave you completely cold.
Daniel Mumby
Super Reviewer
Emile Tremblay
Super Reviewer
U2 3D Quotes
There are no approved quotes yet for this movie.