Tyler Perry's A Madea Christmas
(2013)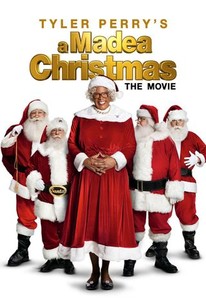 TOMATOMETER
AUDIENCE SCORE
Critic Consensus: It boasts a few laughs, but overall, Tyler Perry's A Madea Christmas ranks among Perry's least entertaining or substantive works.
Tyler Perry's A Madea Christmas Videos
Tyler Perry's A Madea Christmas Photos
Movie Info
Madea gets coaxed into helping a friend pay her daughter a surprise visit in the country for Christmas, but the biggest surprise is what they'll find when they arrive. As the small, rural town prepares for its annual Christmas Carnival, new secrets are revealed and old relationships are tested while Madea dishes her own brand of Christmas Spirit to all. (c) Lionsgate
News & Interviews for Tyler Perry's A Madea Christmas
Critic Reviews for Tyler Perry's A Madea Christmas
Audience Reviews for Tyler Perry's A Madea Christmas
Only in movies are christians minorities and christianity isn't the dominant religion in the entirety of the United States. And, of course, not to mention the fact that they like to pretend that christianity is the only religion that matters and all others shouldn't be celebrated. I believe all religions are nonsense, but, in my opinion, there's nothing wrong with wishing someone a happy holiday instead of merry christmas. It just shows that there's far more diversity than there was in the country before, with people coming from various backgrounds and religions. So not EVERYONE is gonna celebrate the same thing during the holidays. This sort of intolerant 'my religion is more important than yours and I will let you know it' is simply an unacceptable message. But I'm not gonna get into a whole rant of the hypocrisy of christians because I won't end up reviewing this movie at all. It's all very ironic because the film, in a monologue by Kim, Conner's mother, to Eileen after she finds out her daughter is married to a white man, she makes it a point to say that the world has changed for the better. How there are more open hearts and open minds. That cognitive dissonance doe, as the kids would say. Tyler Perry is at odds with his own writing. Then again, nobody will ever accuse Tyler Perry of being a talented writer. Nobody will ever confuse his movies with truly great works of art. This movie is no different, of course. Look, the Madea character is amusing, even if it is an offensive racial stereotype, but I will never say that Tyler Perry doesn't do a good job as the character. I may not like the character at all, or Tyler Perry's movies even more so, but the guy is good at it. He adds a life and energy to the film that is hard to deny. Of course, the problem is the fact that he often sticks Madea in the background so other characters, and their terrible stories, can take the spotlight. I'm not saying a movie solely centered on Madea getting up to her antics would be any better, but it couldn't get any worse. The story in this film is horrendous, truly. Tyler Perry just doesn't know how to write drama, yet he keeps trying, hard as he might, to force dramatic stories around the Madea character, so she can give advice or whatever. Lacey, a black woman, marries Connor, a white man. Lacey knows her mother, Eileen, would disapprove so she keeps it hidden from her while letting her believe that Connor is just the farm help. Things get complicated once Connor's parents come to visit and Eileen starts to treat them, and Connor, like dog shit. It's really as bad as it sounds. Yet, and somehow, since Tyler Perry writes like he's the show-runner of a soap opera, this is one of his least "interesting" films in recent memory. Its message and moral is certainly heavy-handed, as is typical in Tyler Perry movies, but this feels like a special Christmas episode of one of Tyler's own TV series. It has that kind of quality of writing, acting, and cinematography. It's just not that good to be perfectly honest, not to mention that this was probably stretched out past its probably one hour running time. One thing was surprising though, Tyler Perry's and Larry the Cable Guy's, both of whom I don't really like that much, especially Larry, who's incredibly unfunny in my opinion, have some decent chemistry together. They crack some lame jokes together, racial jokes and whatnot, it's exactly what you'd expect, but there's a certain chemistry between them that's noticeable. If only the jokes between them were better. That's not to say there aren't some decent moments. Madea insulting people can lead to some amusing results. Though, unfortunately, the PG-13 setting sort of has her hold back on how truly cruel she could be. Then again, Tyler Perry wants to make something the entire family can sit down and enjoy. He has his audience, that's for sure, and he knows how to cater to their wants and needs. Cater is simply too nice of a word, he panders to them in the most shameless way possible. He's the only one that's truly making films for the black community, at least he's the most prominent and prolific filmmaker as of this moment. Independent films dealing with the real struggle blacks suffer through only find a small audience. And I get it, black people have it hard enough as it is in the United States, so they don't want to see films that tell them how hard they truly have it, because they already live it every day. Tyler Perry takes advantage of that with his films. It'd be one thing if his films were good, but none of his films that I've seen have been any good. I'm talking about the movies he's had a creative involvement in, JJ Abrams' Star Trek does not count. And I only stick with the Madea movies, because his other efforts just look even more terrible to me. I'm not a big fan of his melodramatic, soap opera storytelling. If it was campy enough that you'd get some unintentional laughs out of it, then it'd be one thing, but even that is missing. I'm not gonna get into a big rant about how bad Tyler Perry's movies are. But if you were a Madea fan before this film, then this gives you more of what you expect. He's preaching to the choir, essentially. Those unconverted simply won't find anything to like here. It's really quite bad honestly.
Jesse Ortega
Super Reviewer
½
Good Tyler Perry movie. Standard in addressing important issues yet still makes you laugh. I really enjoyed it.
Jarrin Rozenblad
Super Reviewer
"Peeples" was bad, "Temptation" was a hilarious atrocity, but "A Madea Christmas" ends the 2013 Tyler Perry Stink-Pile Trilogy with a bang.
Tyler Perry's A Madea Christmas Quotes
There are no approved quotes yet for this movie.