Tying the Knot
(2004)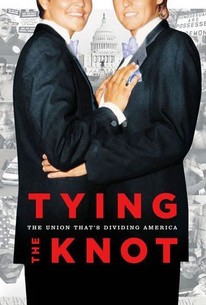 TOMATOMETER
AUDIENCE SCORE
Critic Consensus: Tying the Knot untangles a hot button political issue by putting a personal face on it -- and making its arguments with an effective blend of facts and feelings.
Movie Info
The surviving partners of two separate homosexual marriages in which their spouse died must deal with both the emotional, logistic, and legal turmoil that comes along with both the law and society at large failing to recognize the validity of their unions.
Critic Reviews for Tying the Knot
Audience Reviews for Tying the Knot
Not one for crying during films, I confess that a tear welled in my eye on more than one occasion while watching this documentary on the societal constructs of wedlock, and the discrimination against same-sex marriage. Because of the stance the film takes, many people will be turned off to the subject matter. As a documentary, it stood on its feet firmly. Besides showing footage of rallies, the political windbags' testimony before Congress, and using case studies to outline the loss of constitutional rights by widowed partners, there is also a brief overview of the history of the definition of marriage, and several interviews with activists, politicians, clerks, and gay couples. The opposite side of the debate wasn't given much time except for sound bites that weren't taken out of context, but sure made for an interesting argument. In all, half the film made me overwhelmed with sentimentality and the other held contempt and disgust prevalent in my mind. Not pure entertainment, but a message of hope and civil liberties, your enjoyment will be based on frame of mind.
Spencer S.
Super Reviewer
Even a documentary has to be able to tell a narrative story successfully. Tying the Knot doesn't. It skips from one story to another, jumping in at arbitrary points and then leaving without properly resolution. It does take a stab at being useful by beginning to explore how marriage has changed over the centuries, though even that thesis is discarded all too quickly. This is neither the macro or the micro story of the issue; Tying the Knot ties itself up in knots trying to do too many things at the same time. Not of which are done particularly well, unfortunately.
Jason Vargo
Super Reviewer
Tying the Knot Quotes
There are no approved quotes yet for this movie.