Two Lovers
(2008)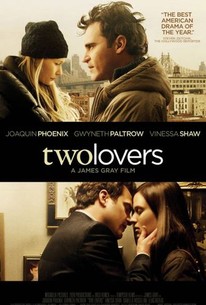 Movie Info
A depressed young man moves back in with his parents and finds his life turned upside down as he struggles to choose between the beautiful daughter of a close family friend and the scintillating but volatile next-door neighbor whose passion helps to reignite his lust for life. The third screen outing for writer/director James Gray and actor Joaquin Phoenix following We Own the Night and The Yards, Two Lovers co-stars Gwyneth Paltrow, Isabella Rossellini, and Vinessa Shaw. ~ Jason Buchanan, Rovi
News & Interviews for Two Lovers
Critic Reviews for Two Lovers
Audience Reviews for Two Lovers
½
A profoundly involving romantic drama that benefits from a sophisticated direction and great performances from its cast - mainly Joaquin Phoenix, who is absolutely perfect and brings this melancholy tale of depression and impulsive passion to another level.
Carlos Magalhães
Super Reviewer
A very schizophrenic movie. As in, I loved the parts with Gwyneth Paltrow, hated the parts with that other chick.
Jennifer Xu
Super Reviewer
examines what love is, or more precisely, what we THINK love is. Two Lovers features Juaquin Phoenix as a damaged soul (now there's a stretch, based on what has happened to him since this film) who, while barely coping with life (he was dealt a raw deal concerning his former fiance)meets up with two diametrically opposed women; one, who his Jewish family is pushing on him, wants to protect and "cure" him, while the other, in a daring performance by Gwyneth Paltrow, is just as damaged and even more needy than Phoenix. The story ark is familiar, and yet it works well here, due to Phoenix's odd and somehow detached performance; charming one moment and yet a ghost of a man who lives with his parents in others. The scenes with Paltrow and Phoenix together, especially those that take place on the building's roof, shot as though you are an easdropper, with walls in the way as the charactors move about, are sizzling. The cinematography throughout is wonderful and moody, with nice lighting touches as when Phoenix and Paltrow converse from their rooms across an alleyway. The ending scenes holds enough suspense that, even if you seriously suspect what's coming, the way in which it is presented will satisfy you. Now some may find the resolution of the film disquieting (I know I did), but really, it fits the charactor, and is honest to the film and all that has come before, however distasteful you might find it. Again, what is love? Is it mutual need? Perhaps. This film certainly let's you ponder the conundrum.
paul sandberg
Super Reviewer
Two Lovers Quotes
There are no approved quotes yet for this movie.