Two Hands
(1999)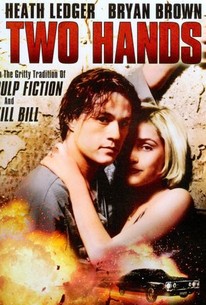 Movie Info
In his wonderfully inventive and decidedly Australian debut feature, Gregor Jordan returns to Sundance (his short, Swinger, played in 1996) with a film that is fresh, funny, and an unqualified delight. With its sophisticated meshing of gangster, horror, and deadpan comedy genres (in the director's words, "like Goodfellas in shorts and thongs"), Two Hands is giddy with invention, style, and brazen raw talent. Guided by its supernatural narrator, acting as part Greek chorus, part guardian angel, Two Hands unravels the high-speed misadventures of Jimmy, its dim-witted but good-natured protagonist. Staving off homelessness in Sydney's seedy inner city, Jimmy, in the same day, meets two people who will forever change his life: Alex, the poster girl for perfect love; and Pando, a local drug kingpin, who is as content to watch origami videos with his six-year-old as he is to snuff a life at the faintest whiff of betrayal. Looking to trade his bottom-of-the-barrel career as a strip-club bouncer for more lucrative and exciting prospects, Jimmy jumps when Pando offers him an entry-level position as a courier. But what seems to be the simplest of jobs turns perilously awry when Jimmy takes a postheist breather at the beach and allows his overrevved, adolescent libido to bury reason--and ten thousand dollars in cash--in the sand. With star turns from Jordan's young and seasoned cast members (especially newcomer Heath Ledger and the venerable Bryan Brown) and an immensely talented production team, Two Hands is accomplished filmmaking and effervescent entertainment.
News & Interviews for Two Hands
Critic Reviews for Two Hands
Audience Reviews for Two Hands
The Man: Something that's good can still have a little bit of bad in it, and something that's bad still has a little bit of good.  "It seemed simple. Just deliver the cash." The only reason I watched this unknown Australian film is because it had the late Heath Ledger. A movie is worth watching just to see him on screen. That's all this movie really is worth though. I just didn't enjoy it. It seemed like it was trying to be smart in the vein of Tarantino, but it came off as an amateurish effort to do so. It isn't unwatchable bad. There's some good acting and the storyline is at least watchable. That's all I can really say good about it though. When a movie isn't as smart as the writer thinks it is; I seldom like it. Showing us the "conclusion" at the start to try to trick us could work, but not when you get to that point too early. A strip club promoter takes an easy cash delivery job for a gangster. He goes and knocks on the door where he is supposed to drop it off, but no one is there. While he tries to kill time, he loses the money and now must try to avoid the gangster who will surely kill him. A pretty basic plot that has been done before and been done better. Two Hands is an insignificant Ausie thriller/comedy. Watch it if you are a Ledger completist like me. It isn't a completely awful film, so if you just want to see a movie with Ledger that you haven't seen, give it a look. Just don't expect anything much.
Melvin White
Super Reviewer
Directed by: Gregor Jordan. Starring: Heath Ledger, Rose Byrne, Bryan Brown, David Field. << "Something that's good can still have a little bit of bad in it, and something that's bad still has a little bit of good." >> The story follows a young australian who wants to do anything that involves using his hands, he just doesn't know what yet. He soon meets a young girl and falls for her, but not before he takes a job for a local gangster and ends up messing it up by losing the money. Of course the main reason I wanted to finally get this out was because of Heath Ledger. Watching him grow after every performance and following The Dark Knight everywhere it has gone in production, I was shattered to see Heath pass so suddenly and made sure I saw every film he has made...and this one is certainly his step away from the teenage genre. It is reasonably by the numbers, no doubt about that, man gets into the wrong business, messes up and is on the run from this crowd, all while trying to fix what he has done...but why try and be original when Two Hands has everything else going for it? Gregor Jordan really came out of nowhere with this film. Highly influenced by many gritty crime classics, he has crafted a fast paced, brilliantly quirky and witty thriller that is never bogged down by its formulaic plot, he directs with too much flair to allow that. Alongside Gregors tight writing and sharp direction is a pair of brilliant performances. Heath started out before this with such teen 'classics' as 10 Things I Hate About You and minor roles on Aussie television, he really stepped out of his pretty boy persona with this role that really showed his star quality...I think intentionally he was wooden for the first 1/3, but the final hour really showed his dedication and control. Bryan Brown is the other who delivers a gritty and quirky performance as the 'gangster', a performance reminisint of Vinnie Jones or Jason Statham in Lock Stock...and I'll be fair and mention Rose Byrne. A brilliant actress now, her performance here is acceptable and shows potential, but is just a tad to weak and over the top. Two Hands really impressed me. As much as it is the same plot as so many other crime classics, it blasts through with a fast pace, brilliant direction that is both quirky and gritty and some top notch performances. A load of fun...just don't expect a masterpiece.
Craig Sutcliffe
Super Reviewer
Pando: Give em' ya fucking keys. Acko: He's not taking my fucking car! Pando: It's only gonna take twenty minutes, he needs a car, so give em ya fucking keys. Acko: I just got the gearbox fixed. Pando: Good, that means it works, now give em ya fucking keys. Heath Ledger stars in this low budget Australian crime comedy thriller involving some bad sequences of events for a young man seeking something to do with himself. Ledger is Jimmy, a strip club bouncer in Sydney who tries to get involved with a local big time drug dealer, only to lose the money he was supposed to deliver and forced to delve into the criminal underworld to get it back. It's a very simple story, that has been clearly influenced by films like Reservoir Dogs, Pulp Fiction, and Lock, Stock, and Two Smoking Barrels. That doesn't mean its not good though. Ledger and Brown, the drug dealer, are very good in their roles. It is Ledger that has to hold this film together, and he does a great job at it, combing his charm, good looks, and good senses to his character. Its very briskly paced, with some inventive scenes, as well as some subtext involving fate that make this a fun flick. Pando: You loaded your gun with old fucking bullets you put through the fucking wash?
Aaron Neuwirth
Super Reviewer
Two Hands Quotes
There are no approved quotes yet for this movie.