Two Bits
(1995)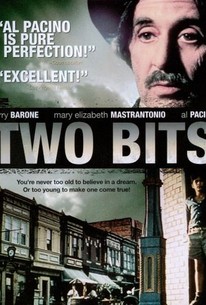 Movie Info
This nostalgic drama is based upon the childhood memories of screenwriter Joseph Stefano. Set in South Philadelphia in 1933 it centers on both a wise grandfather, and his single-minded grandson. The film opens in a garden on a beautiful day. In the garden is the Italian grandpa telling anyone who will listen that this is his final day of life. No one really believes that, especially not 12-year-old Gennaro who is more interested in finding a quarter so he can go to the grand opening of the brand new La Paloma theater. The grandfather promises the boy that he will receive the money after he dies. The child doesn't believe this and so begins his own search for two bits. Along the way he has many adventures. Towards the end, the grandfather asks the boy to deliver a message to a woman he wronged many years before. He wants her forgiveness before he dies. In the end, Gennaro learns a valuable lesson about life.
Critic Reviews for Two Bits
Audience Reviews for Two Bits
½
Although this movie gets off to a weak start and is fairly uneven throughout, it has enough heart and a strong enough plot that it won me over. Although subtly so, this is a relatively dark film that approaches the coming-of-age formula in a unique way. The acting is far from brilliant overall, but Pacino's supporting performance is the exception. His character portrait is so moving and vivid, I believe he deserved an Oscar nomination.
½
Slowly knocking off the last few Pacino movies I've not seen. This was a good movie, unlike most movies you think of with an actor like Pacino; doesn't mean he can't perform them though. In short the movie is about a boy and his dream, with his dying grandfather (Pacino) guiding him and telling him to always want and never give up. Pacino's character is pretty much the opposite of most of his, none of his patented deep pissed voice, not even a whole lot of camera time, he is more the supporting actor. But a small moving story that I enjoyed.
Kevin "The Ninja"
Super Reviewer
Two Bits Quotes
There are no approved quotes yet for this movie.