Twins of Evil
(1971)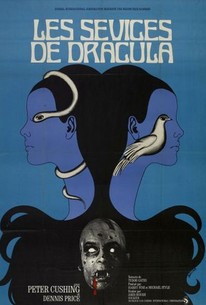 Movie Info
This entry in Hammer Films' long-running vampire series of the '60s and '70s is one of the most evocative and original. The story features voluptuous twin Playboy centerfolds Madeleine and Mary Collinson as sisters who, without parents, are sent to stay with their oppressive uncle (Peter Cushing, looking more emaciated than ever), who happens to live near the sinister Karnstein Castle, the locale of countless vampiric happenings in two prequels (The Vampire Lovers and Lust for a Vampire). One of the twins wanders over and meets the dashing Count Karstein (Damien Thomas), a vampire who later uses the girl's blood to awaken his long-lost ancestor from the dead. Of course, the uncle predictably gives chase once trouble starts, but there is a clever plot twist as the count switches the twins before one is about to be burned at the stake for her supposed satanic involvements. Twins of Evil unabashedly exploits the twins' assets to pump up the film's sex appeal; it also seems to cater to viewers with a vampire fetish. Still, neither is necessarily a bad thing in a vampire film; Twins of Evil does create an effectively sensuous mood while also managing to sustain a fair amount of tension throughout the picture. Although Universal Pictures, the U.S. distributor, extracted nearly all of the flesh and bloodletting from its release, the original British cut retains everything and is the usual copy found on video. Like its predecessors, the script for Twins of Evil is loosely based on LeFanu's classic vampire story Carmilla. ~ Jeremy Beday, Rovi
Critic Reviews for Twins of Evil
Audience Reviews for Twins of Evil
The Karnstein trilogy ends with a bang in this return to form for Hammer. Cushing returns though as a different character to the baron he played in "The Vampire Lovers". This time he's an evil preacher who burns local girls at the stake under charge of witchcraft. He's rarely been better, and that's really saying something. When a ridiculously hot pair of twins come to stay with him they become embroiled in all manner of devilry. Great stuff.
The Movie Waffler
Super Reviewer
Twins of Evil is without doubt one of Hammer's very finest films. The film blends together a few different elements of horror. We've got witches (and the resulting witch hunts), devil worship and, of course, vampirism. These things combine to make one very nice Hammer film indeed. Naturally, the film benefits immensely from the incredibly beautiful ladies that play the twins of the title - Mary and Madeleine Collinson. The two are the ultimate in sweetness, which makes it all the better when one of them becomes more like the title suggests. The plot is relatively simple given all the elements it combines. We follow Gustav Weil (Peter Cushing on fine form) as a religious man by day, and witch hunter/burner by night. The beautiful twins of the title go to live with him after the death of their parents. However, the village in which they live is beneath a castle, inside of which lives the evil devil worshipper; Count Karnstein. Like some Hammer offerings, Twins of Evil does cross the line into camp here and there and features a number of over the top performances but that being said Hammer Horror is at their best when they're combining several things and tweaking classic stories, and that is what is done here. Twins of Evil is a very original take on the classic vampire story and is therefore a lot of fun to view. It benefits from the direction of John Hough; the man who would later go on to make the seminal classic, "The Legend of Hell House". I actually think he did a better job here than he did there. For Twins of Evil, Hough has captured a foreboding and creepy atmosphere, through use of lots of smoke and a Gothic period setting that involves such favorite horror locations as graveyards and old castles. Hough has also given the film a very heavy handed score, which although gets a little silly, increases the camp value of the film and is therefore beneficial to the film. Like many a great horror film, this one benefits from a great finale, which includes numerous gory sequences including, most notably, a decapitation scene; which gorehounds are bound to find satisfying. I'm a big fan of Hammer horror, and I would certainly place this one among their top five best achievements. Highly recommended viewing
David Ladd
Super Reviewer
Good late Hammer. A shame to see Dennis Price so wasted, but Cushing gives perhaps his best late performance as a witch-hunter. The film obviously owes a debt to the much more serious "The Witchfinder General". It's remarkably chaste for a late-period Hammer, especially given the Playboy pin-up twin leads. Interestingly, the music score is a pastishe of Spaghetti Western music.
Twins of Evil Quotes
There are no approved quotes yet for this movie.