The Twilight Samurai (Tasogare Seibei)
(2004)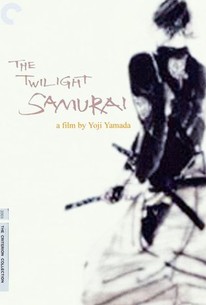 The Twilight Samurai (Tasogare Seibei) Photos
Movie Info
Veteran filmmaker Yoji Yamada -- who is perhaps most famous for cranking out most of the 48 films of the Tora-san series -- directs this good-natured drama set in the waning years of the Edo period (1600-1867). Seibei (Hiroyuki Sanada) is a low-level samurai struggling to get by on stipend of 50 rice bales a year while working as a clerk at the clan office. While his co-workers spend their evenings sucking down sake at the local pub, Seibei, whose wife has passed away, heads straight home to care for his two young daughters and doddering mother. One day, his friend Michinojo (Mitsuru Fukikoshi) tells him that his boyhood friend Tomoe (Rie Miyazawa), is leaving her thuggish husband and returning home. Tomoe soon starts to frequent Seibei's house, taking care of his daughters, while Seibei quietly falls in love with the attractive young lass. After defeating Tomoe's husband in a duel, armed with only a pointed stick, Seibei is asked by Michinojo if he wants to marry Tomoe. Seibei declines, too embarrassed by his poverty to accept. Later, as he prepares to perform the distasteful task of killing a fellow samurai, he learns that Tomoe is engaged to another man. ~ Jonathan Crow, Rovi
Critic Reviews for The Twilight Samurai (Tasogare Seibei)
Audience Reviews for The Twilight Samurai (Tasogare Seibei)
Awesome Japanese 'Jane Austen' samurai drama flick. The direction of the film is beautifully impressionist. Yôji Yamada crafts pictures of everyday life which gives us an inherent understanding of the life of Seibei Iguchi (Hiroyuki Sanada), a low-ranking widowed samurai with a senile mother and two daughters, working in the castle's stores and taking in piecework to get by. Sanada is really a marvel to watch; he adds a very sensible depth and modesty to the character, and infuses it with some understated comic acting as well. As his returning childhood friend, Rie Miyazawa has a beautiful, spirited feminity that makes Sanada seem even more of a macho hunk in contrast.
Dean McKenna
Super Reviewer
The Twilight Samurai tells of gentle tale of the sacrifices of a determined father and brave warrior who is burdened, but refuses to succumb to the weight of his responsibilities to his family and clan. Impressive perspective on Japanese history and tradition. Skillful performances and cinematography. Precise emotions. Profound insights. Stunning.
Jan Marc Macababayao
Super Reviewer
A rather quiet film, The Twilight Samurai is a gentle, insightful, beautiful piece about a widower who works as a dull accountant for a war lord. And, oh yes, he happens to be a hell of a good swordsman when necessary. He reluctantly fights and only seeks to do exactly enough to halt the attacks. All that might seem to be code words for dull, but Twilight Samurai is a fascinating, unique and thought provoking glimpse into the life of a low-ranking Samurai. Highly recommended for any fan of samurai films.
El Hombre Invisible
Super Reviewer
The Twilight Samurai (Tasogare Seibei) Quotes
There are no approved quotes yet for this movie.