Twentyfourseven
(1998)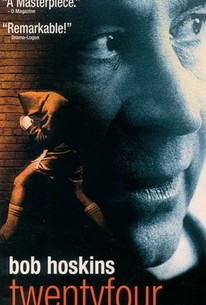 Movie Info
In this debut feature film from young British writer-director Shane Meadows, an unemployed ex-boxer, Alan Darcy (Bob Hoskins), borrows money from a gangster to set up a boxing club in his small, gritty English city. Darcy narrates the story from his diary notes. Boxing saved him from a wasted youth, and Darcy promotes the idea to the town fathers as a gang-prevention strategy. The town's economy is in shambles and the young men have nothing to look forward to. Darcy gives them a reason to live and a dream, converting their violent energy to sport and fostering a sense of camaraderie and sportsmanship. First he wins them over by playing soccer with them, then he lures them into his lessons on boxing. He drives them hard to prepare them for their first match, against boxers from a rival local team. Darcy has the team poised to win when one of his best fighter's parents threatens to pull him from the match.
Critic Reviews for Twentyfourseven
Audience Reviews for Twentyfourseven
Touching performance from Bob Hoskins and a witty script make for a low key gem.
Gordon Anderson
Super Reviewer
½
Twentyfourseven is another gritty urban tale from Shane Meadows, and tells the story of Darcy, a man trying to organize a small inner city boxing club to teach the local lads self respect and keep them out of trouble. This being a Shane Meadows film, you know going into it it's not going to be one of those typical formulaic feelgood sports movies that plague modern cinema. In fact as I watched the camaraderie and respect grow between the lads, I was just waiting for the ACME anvil to land on my head! And so it did, but not in the painfully depressing way one might expect. Although Meadows thankfully sidestepped the usual cliches and brought an element of grim reality into play, it still manages to end on a comparatively positive note without resorting to the usual sentimental slop. Hoskins is as good as always as the small man trying to make a difference in his small corner of the world, and it's nicely shot in atmospheric documentary style black and white. Yet another quality film from the best film maker currently working in Britain.
Admittedly not in the same league as other 'Shane Meadows' films in my opinion, but enjoyable all the same. It didn't tend to hold my attention, the way the others did and I'm not sure if the characters were developed to the full potential, that being said, it would be hard to pull off a 4/5 star film every time and so I think this one of those 'watchable' ones, rather than a 'must see'. Special Features, however, has a short film by Shane Meadows starring the brillient Paddy Considine called 'Three Tears for Jimmy Prophet', which shows again Paddy's versitility and acting ability. VERDICT: Forget it's a Shane Meadows film and and watch it if it comes your way
Lady D'arbanville
Super Reviewer
Twentyfourseven Quotes
There are no approved quotes yet for this movie.