Turks & Caicos
(2014)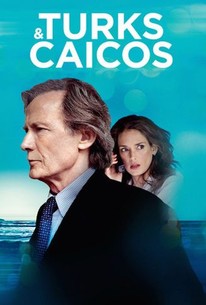 AUDIENCE SCORE
Critic Consensus: No consensus yet.
Movie Info
Johnny Worricker is hiding out from his work at MI5 on the tax-exile islands, Turks & Caicos. But an encounter with a CIA agent forces him into the company of some ambiguous American businessmen who claim to be on the islands for a conference on the global financial crisis. When one of them falls in the sea, then it's their financial PR who seems to know more than she's letting on. But will she help Johnny come to an understanding of what these men do and why they're here?
Critic Reviews for Turks & Caicos
All Critics (3) | Top Critics (1) | Fresh (2) | Rotten (1)
Turks & Caicos and Salting the Battlefield... invite us to consider our own participation in the storytelling, to look past surfaces and think about how and why lies might be told, how identities might be changed or left behind or revisited.
Undercover Brits and Yanks toe to toe in the tropics. As a thieves' den of sinister capitalist slackers sip post-colonial cocktails, while plotting further takeovers around the planet. Though MI5 tends to get a pass while fuming over secret CIA torture.
Audience Reviews for Turks & Caicos
I had never heard of this movie before, but apparently, it's part two of David Hare's BBC trilogy about a fugitive gentleman spy, now forced to play mild-mannered retiree on the eponymous islands due to a crisis of conscience that led to his being MIA from MI5. The staid British caper pits stolid Bill Nighy as Johnny Worricker against chilly Christopher Walken as Curtis Pelissier, an undercover CIA agent who blackmails Worricker into helping him entrap some white collar criminals. Riveting, right? They are joined by two femme fatales: a plummy Helena Bonham Carter as MI5 analyst and Worricker's former flame, and wild-eyed Winona Ryder as the white collar criminals' PR rep who keeps all their secrets. It's a pedigreed production to be sure, if a bit vague in the stodgy British thriller way, but it boasts some fine performances, and it actually got me to read the rather beautiful inscription on all passports about offering aid and protection to the holder of the passport.
Alice Shen
Super Reviewer
½
In "Turks and Caicos," there is trouble in paradise for Johnny Worricker(Bill Nighy). That comes in the person of Curtis Pelissier(Christopher Walken) who recognizes Johnny when he clearly shouldn't. At the same time, Curtis does nothing more threatening than invite him to dinner where he introduces him to his business associates Gary(Dylan Baker), Dido(Zach Grenier) and Frank(James Naughton) before Melanie(Winona Ryder) shows up who Curtis is very curious about. The following morning Dido shows up dead. And probably not from natural causes either. Have you ever seen something on screen that you never imagined before you realize how sublime it is once it actually does? For me, it is the pairing of Bill Nighy and Christopher Walken in the movie "Turks & Caicos"(which is apparently a real place), with each working on his own distinctive frequency to create a unique rhythm between the two. Plus, Winona Ryder shows again what she can do when she gets a quality part like this one. Otherwise, there is not that much happening on the surface, nor does there really have to, with all the danger lurking just beneath the smiles amongst the plotters.
Turks & Caicos Quotes
There are no approved quotes yet for this movie.