Turistas (Paradise Lost)
(2006)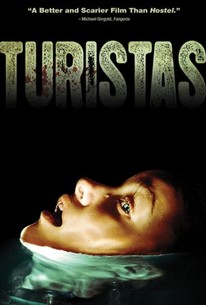 Turistas (Paradise Lost) Photos
Movie Info
John Stockwell's thriller Turistas begins when vacationers end up stranded in a little Brazilian village after a bus accident wipes out their transportation. Although many in the group are experienced when it comes to unusual travel destinations, none of them are able to get a handle on this strange village. They soon come to realize that they are stranded somewhere with something much more dangerous than they could have imagined. Josh Duhamel, Melissa George, and Olivia Wilde co-star.
News & Interviews for Turistas (Paradise Lost)
Critic Reviews for Turistas (Paradise Lost)
Audience Reviews for Turistas (Paradise Lost)
½
[img]http://images.rottentomatoes.com/images/user/icons/icon13.gif[/img]
Directors Cat
Super Reviewer
This is a standard horror movie I guess. It's a play by play of every cliche in the horror genre. It doesn't even make sense really. I mean I just LOVE how in America the movies view other countries (like Brazil) as creepy towns filled with people who just want to kill you and take your organs. That's in every movie. Backpackers touring the world always get raped or maimed by villagers in a foreign country, it's quite offensive actually and really old. I'm so tired of seeing that. I mean when foreigners come to America do Americans kidnap them and harvest their organs to sell on the black market? No. So why do we make movies saying other countries do that? it's so messed up and I'm sooooo freakin tired of watching movies about that. So fucking unrealistic and not scary anymore. But back to the movie---it sucked. The characters are all shallow and make really illogical decisions. "Let's follow this guy into the woods! Let's go in these underwater caves!" Really? You fucking retards. They all deserve to die.
Turistas is an awful horror film that uses old cliches to try to create something new and refreshing. This film is poorly written with a script that doesn't work. The result is a film that tries too hard at being a scary horror film, however it's far from scary. The film suffers from a bad cast that don't do anything to thrill you or entertain you. The acting is painful, and you quickly realize that this is a waste of a horror flick, one that scraps the bottom of the barrel and one that tries far too hard at delivering scares. This is yet another awful horror film. What's wrong with the current state of horror is that instead of exploring new ideas and concepts, filmmakers create films with the same old boring formula. I hated this film, and didn't think it was a good film whatsoever. The cast of actors sucked and didn't deliver anything memorable or meaningful to the screen. Turistas is a terrible film that should never have been made. The film just tries too hard at trying to be scary, but it ends being silly. Turistas is the perfect example of a poorly written horror flick, this film is too derivative of other films and with the poor cast, and poor story and poor directing, Turistas ends up being a dud. This film was terrible, and it's no mystery as to why I've seen this film in many bargain bins. Avoid this film if you enjoy real horror that delivers. The only thing that Turistas delivers is an awful filmgoing experience.
Turistas (Paradise Lost) Quotes
There are no approved quotes yet for this movie.