The Truth About Cats & Dogs
(1996)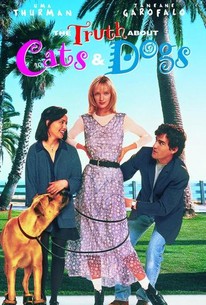 The Truth About Cats & Dogs Photos
Movie Info
In this updated and gender-reversed variation on Cyrano de Bergerac, Janeane Garofalo stars as Abby, the host of a radio talk show for people who have problems with pets. One day, she gets a call from Brian (Ben Chaplin) who is having trouble with his Great Dane (who enjoys roller skating). After a few minutes on the phone, Brian is immediately taken with Abby, and she's certainly interested in him. However, while Abby is not unattractive, she's terribly self-conscious about her appearance. When he asks her for a description, instead of telling him she's a diminutive brunette with big brown eyes, she describes her neighbor Noelle (Uma Thurman), a tall, rail-thin, blue eyed blonde. When Ben sets up a date, Abby is frantic and convinces Noelle to take her place. However, while Abby sounds smart, witty and charming over the radio (or the telephone), Noelle speaks like -- well, I think the phrase dumb blonde is called for here. Brian becomes puzzled -- why is it Abby is so great on the phone but so inarticulate in person? And what's the story with her friend, the cute brunette who sounds so smart? Noelle is even more confused; she wants to help her friend, but she's finding herself falling for Brian as well. The Truth About Cats and Dogs gave Ben Chaplin his first role in an American film and Janeane Garofalo's first starring turn after several notable supporting performances. ~ Mark Deming, Rovi
News & Interviews for The Truth About Cats & Dogs
Critic Reviews for The Truth About Cats & Dogs
Audience Reviews for The Truth About Cats & Dogs
Favourite of mine from way back. Hadn't seen in years. Have to admit, I was struck by Brian's stupidity not recognising Abby's voice. Aside from that,nice little movie with a cute story. Also didn't remember that Janeane was so pretty back in the 90's, even cast here as an unattractive girl!
Nicki Marie
Super Reviewer
It was ok. Nothing more than that. The phone sex scene was especially awkward.
Bethany Murphy
Super Reviewer
I like Janeane Garofalo. I think she's hilarious and sweet, and she seems like a really nice person. And it's nice for her to be able to land a starring role once in a while, because - as this movie points out - she's not "conventionally" beautiful. Though I must say Ben Chaplin's character is possibly the stupidest man this side of the Midwest. Are you sure you really want to date him, Janeane?
Jennifer Xu
Super Reviewer
The Truth About Cats & Dogs Quotes
There are no approved quotes yet for this movie.