The Truman Show
(1998)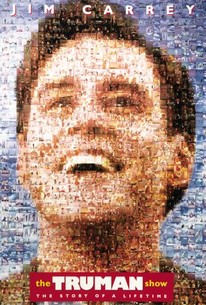 TOMATOMETER
AUDIENCE SCORE
Critic Consensus: A funny, tender, and thought-provoking film, The Truman Show is all the more noteworthy for its remarkably prescient vision of runaway celebrity culture and a nation with an insatiable thirst for the private details of ordinary lives.
Movie Info
Jim Carrey gives a remarkable performance as a man learning that his entire life in a storybook coastal village has been the subject of a live, 24-hour-a-day womb-to-tomb television drama.
News & Interviews for The Truman Show
Critic Reviews for The Truman Show
Audience Reviews for The Truman Show
One of the best movies I have ever seen.
Matt Goodman
Super Reviewer
Christof: We accept the reality of the world with which we are presented. "On the air. Unaware." The Truman Show may have one of the most genius premises ever for a film. There's, especially today, always this fear of being watched. With all the paranoia about our phone calls and texts being sold to the government and with cameras everywhere and anywhere, it's a common part of our everyday. So with The Truman Show, we view a protagonist whose whole existence is a tv show. He's been on the air for thirty years, since his birth and he doesn't even know it.  Truman is a married, insurance agent. That's his "character" in the tv show, The Truman Show, that he stars as. The show was created by Christof, and everyone in the town he lives in is in on it. They are all actors. Truman is beginning to suspect all this and just wants to find the girl who he really wants to be with. But the show controls his life without his even knowing it.  This film is pretty much flawless. It's well thought out and just keeps getting better as it goes on, while many movies with great premises like this run out of steam near the end. The Truman Show is a perfect example, that great writing is what makes a movie great. Sure Peter Weir is legendary director and his work here is among his best, but what makes this movie so good, is definitely the screenplay. Also you gotta love Jim Carey in movies like this. This is where he thrives. So if you haven't seen The Truman Show, it is a must watch. It's nonstop fun, intelligent entertainment. The story has good ideas present at every turning point, and just when you think the movie has reached as good of quality as it can, it introduces something else that makes it even better. This is a masterpiece and it would be a shame to miss a film like this one.
Melvin White
Super Reviewer
This is the new way of comedy movie should be and I must say that I'm impressed with the idea of this movie about making someone's life is a 24-hour nonstop TV show is a brilliant idea.. Andrew Niccol wrote a great screenplay while Peter Weir makes the movie wrapped amazingly.. And the cast did quite impressive even the credits should all go to Jim Carrey with probably this movie is one of his best performance.. All I can say is I like this movie and I'm happy how the story works..
Sanjaya 丘耀文
Super Reviewer
The Truman Show Quotes
There are no approved quotes yet for this movie.